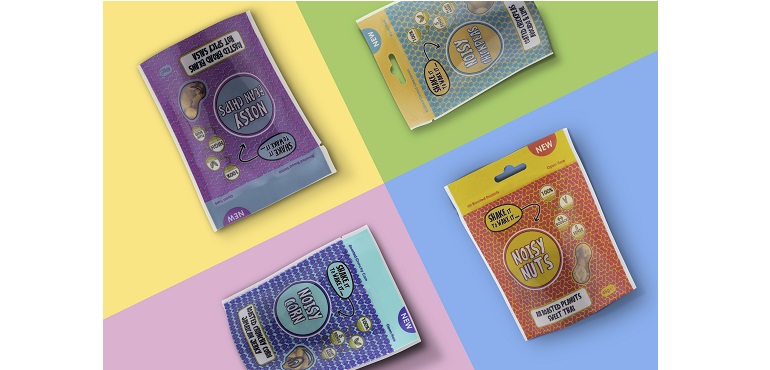 Snacks making a noise with Tesco Northern Ireland
Shoppers at Tesco Northern Ireland supermarkets are now enjoying original snacks created by award-winning local producer Noisy Snacks.
Noisy Snacks, based in Newtownards, has supplied six snack products to 25 Tesco stores across Northern Ireland for the first time.
The products now available in Tesco supermarkets are:

Noisy Bean Chips Beef Brisket;
Noisy Bean Chips Pulled Pork;
Noisy Chickpeas Piri Mango;
Noisy Chickpeas Avocado & Lime;
Noisy Corn Jamaican Jerky; and
Noisy Corn Red Curry & Coconut
The new range of Noisy Snacks are flexitarian offering options for all, including vegan, gluten free, high in fibre, and high in protein.
Noel Allen, the founder Noisy Snacks Brand, says the important breakthrough business followed a direct approach from Tesco in Northern Ireland. "It was a very significant listing which has positioned us with all the big snack producers," he says.

"Tesco has been immensely supportive. They backed our products with an in store local sampling event that has seen 8,000 samples go out across 12 of their stores for customers to experience and enjoy at the value price of £1 per pack as part of the Spring Local Event running in stores. This support was extremely encouraging because it is so difficult to create awareness with sampling especially due to the current Covid pandemic restrictions," he adds.
Noisy Snacks launched a range of innovative and healthier snacks before the pandemic and had developed significant business with specialist stores across the UK. The launch was accompanied by a complete brand refresh that emphasised that the snacks were created to indulge all the senses.
Noisy Snacks introduced convenient fully recyclable 45g pouches of Roasted Chickpeas Broad bean and Crunchy Corn snacks pre-mixed with extra additional flavouring that requires a vigorous 'Shake it, to Wake it' for a sensory-awakening experience. It has invested in creative social media marketing to build a local Noisy following, give them a follow @NoisySnacks.