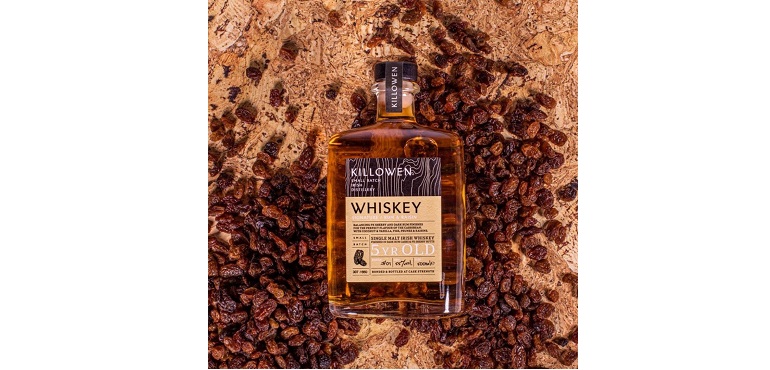 Killowen Distillery launches Signature Rum & Raisin Irish Whiskey
Northern Ireland's pioneering Killowen Distillery has launched a Signature Rum & Raisin small batch Irish Whiskey - a vatting of whiskey aged in Irish Dark Rum & PX sherry casks – 5-year-old, Single Malt (ABV55%).
The latest Killowen Irish Whiskey, produced in a small distillery near Rostrevor, county Down in the iconic Mourne Mountains from water sourced from there has dark rum notes from rich molasses and tropical fruits. The rich PX sherry casks provide abundant raisin and dried fruits amidst the backdrop of the famous apples and pears often found in the sourced distillate.
The playful name is a nod to the cask choices and the beginning of a signature release that will be replicated in varying forms.
The whiskey is a sourced release from Killowen, having selected a handful of casks from a distillery in the neighbouring County of Louth which is clearly mentioned on the bottle. Killowen has now launched themselves into the single malt scene after extensively exploring blending and finishing in their previous Bonded Experimental Series.
Brendan Carty, founder and master distiller at Killowen, says "The vatting of these casks will be carried out in batches, normally 200 litres and 120 litres, allowing for slightly more bottles per batch than previous releases.
"The Rum and Raisin is presented in a new bottle type, and with a beautiful fresh labeling design: cork and tamper seal. This means that the wax seal will be kept for future releases outside of this particular signature style. The luxurious Rum & Raisin is the beginning of an evolving family of releases that will continue from sourced liquids into Killowen's own distillate," he adds.
 The new release had notes of a burst of fresh apple juice along with black-strap molasses and a generous helping of warm Christmas pudding.
Continuing with the distillery's discipline, all bottles are at high strength and there has been no chilled filtration or added colouring. The spirit has come straight from the cask to the bottle, and is high in alcohol content. The virgin cask is lightly charred and so the unfiltered spirit is relatively free of char this time.