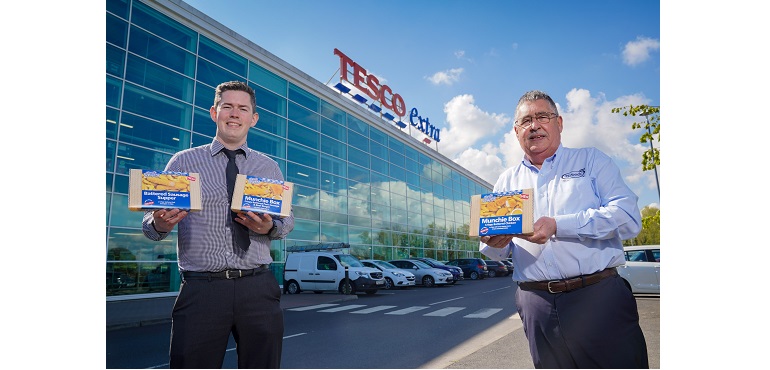 TS Foods secures a tasty Tesco listing
One of Northern Ireland's leading chilled and frozen food producers, TS Foods, has secured three new listings for their iconic Tony's Chippy brand worth £150k with Tesco NI. 
Joining the existing range of cook-at-home chip shop favourites in the freezer aisle – which includes pasties and battered sausages – the new products offer consumers a fast and convenient meal solution. 
Each Meal Box includes chips and is oven-ready, offering the consumer complete convenience. 
The Meal Box range consists of a Crispy Battered Chicken Munchie Box (with a sachet of spicy seasoning and a curry dipping sauce), a Battered Sausage & Battered Burger Munchie Box (with curry dipping sauce and onion rings), and a classic Battered Sausage Supper.
The new range is available at sixteen locations across Northern Ireland and are merchandised alongside the existing Tony's Chippy frozen SKUs with the RRP ranging from £2 to £3. 
Based in Castlewellan since it was started by Tony and Ann Steele in 1978, TS Foods is now run by their daughter Joanne Molloy and son David Steele.  
Managing Director, Joanne Molloy, said: "Tony's Chippy was the first brand TS Foods offered to consumers over four decades ago and we are pleased that the range continues to evolve in order to remain relevant to today's consumer."
"We know all retailers, including Tesco, have been working harder than ever to bring their customers exciting offerings to enjoy at home to keep in-home dining interesting and fresh and we're proud that the Munchie and Supper Boxes deliver this."
Michael Crealey, Buying Manager at Tesco NI also commented:  "At Tesco NI, we are committed to working with local producers wherever possible and are proud to have worked with TS Foods for over twenty years. These Munchie and Supper Boxes will offer our consumers something unique at a great price point and are an exciting new sub-category for Tesco NI."
Michael Crealey, Buying Manager at Tesco NI and Stephen McNeice, Account Manager at TS Foods mark the launch of three new Tony's Chippy meal-box products into sixteen Tesco stores across Northern Ireland.