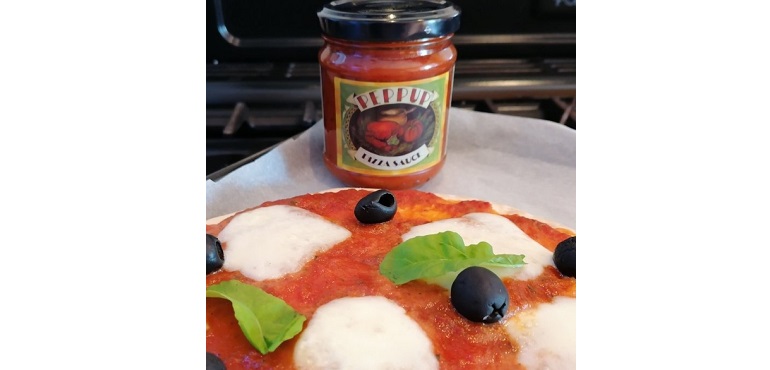 Authentic Italian pizza sauce from Northern Ireland's PEPPUP
An authentic Italian pizza sauce has been developed by Northern Ireland's PEPPUP Sauces in time for the summer season.
The sauce is the latest in a series of Italian products that has been developed and launched by the small company, the Northern Ireland producer of authentic and nutritious Mediterranean foods.
The new product has been created by PEPPUP founder Dr Luca Montorio at the company which is based at Newtownards in county Down since he formed the enterprise with wife Liz in 2014. They have since developed a comprehensive portfolio of Italian sauces and condiments.
The traditional pizza sauce is made using classic red peppers and tomatoes with added oregano. The sauce has no added sugar, is gluten, dairy and fat free and is ideal for vegans as well as vegetarians.
The sauce is provided in 190g glass bottles for two to three large pizzas and is now on sale on the island of Ireland.
The pizza sauce is the company's third innovation in as many months and follows an Italian style salad dressing in 250ml bottles.
"The new pizza sauce was an obvious development for us on the back of our existing product range which includes a popular Bolognese sauce, dips and pepper condiments.'
Originally from Turin, Dr Montorio has won a series of quality and taste awards for his products which are proving extremely successful in delis, farm shops, family butchers and greengrocers in Northern Ireland and the Republic of Ireland.
The company has won widespread respect for the strength of its commitment to original foods that are both nutritious and delicious and free from allergens, fat and sugar.