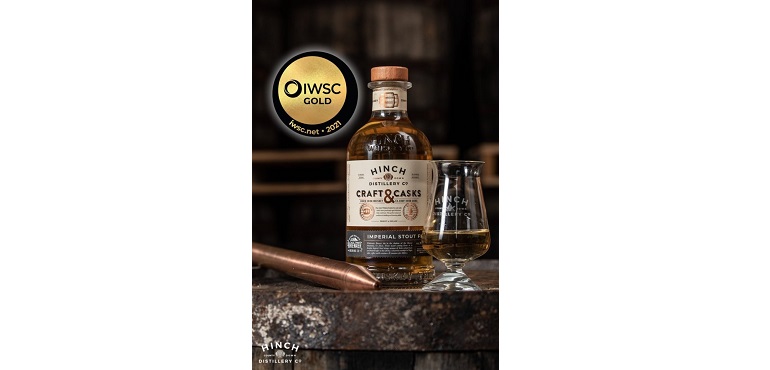 Six Northern Ireland distilleries successful in international awards
Six distilleries from Northern Ireland have won major awards in the annual International Wine and Spirits Competition (IWSC), one of the world's most significant events in the industry.
The awards include two golds – Hinch Distillery, Ballynahinch, county Down for its Craft and Casks Irish Whiskey finished in Imperial Stout Casks from Whitewater Brewery in Castlewellan, county Down, and Niche Drinks in Derry for its Tesco Finest Gingerbread Latte Irish Cream Liqueur.
The IWSC's biggest spirits judging in history took place over eight days in London. Over 80 experts were tasked with tasting over 4,000 spirits.
Northern Ireland distillers collected awards for whiskey, gin, vodka and Irish cream liqueurs.
The successful Northern Ireland distilleries were:
Boatyard, Enniskillen, county Fermanagh: Silver and Bronze for Double Gin. Silver for Irish Wheat Vodka and Bronze for Old Tom Double Gin and for Sloe Boat Gin
Copeland,  Donaghadee, county Down: Silvers for Blended Irish Whiskey and Irish Gin and Jones Cask Finished Gin and Bronze for Smuggler's Reserve Rum
Hinch, Ballynahinch, county Down: Gold – Craft and Casks Irish Whiskey Imperial Stout Cask finished and Silver for Peated Single Malt Irish Whiskey and for Ninth Wave Irish Craft Gin and Bronze for Five Year Single Malt
Niche Drinks, Derry, county Londonderry: Gold for Tesco Finest Gingerbread Latte Irish Cream Liqueur and Bronze for Tesco Finest Salted Caramel Irish Cream Liqueur
Rademon, Crossgar, county Down: Silver – Shortcross Gin Citrus Drizzle and Silver to master distiller David Boyd Armstrong for Shortcross Angels
Wild Atlantic Way Distillery, Strabane, county Tyrone: Bronze for Irish Vodka
Woodlab, Moy, county Tyrone: Bronze for Woodlab Distillery Symphonia Irish Apple Rum
The biggest category this year was gin - over 1,000 entries tasted by the judges, there was also an impressive number of rum entries, more than 300 liqueurs evaluated, as well as brandies, whiskies, and other spirits.
Each year the IWSC results reveal trends that go on to be seen within the industry, this year is no different. Contemporary gins saw the largest growth in medal winners. Spirits Judging Committee member, David T Smith described this year as "a bumper one for ready-to-drink (RTD) products, which is reflective of their growing popularity in the wider market", hard seltzers made their debut at the spirits judging with seven medals awarded.
There was a wide variety of rums entered this year, representing many countries, but it was rums from Barbados that received the most gold medals. Worldwide whiskey was the category that achieved the highest scores, with 70 entries receiving 95 points or more.

Around 60 percent of entries received a medal, from bronze to the highest accolade of gold outstanding. There were 74 gold outstanding medals awarded this year and 250 gold medals. Six amazing spirits scored a massive 99 points each, the highest score given this year.
In total, spirits entered came from 86 countries, including some unexpected such as whiskey from Israel, Shōchū from England, gin from Brazil and vodka from Kyrgyzstan.
The Gold winning Irish Craft and Cask Irish Whiskey from Hinch Distillery in Northern Ireland