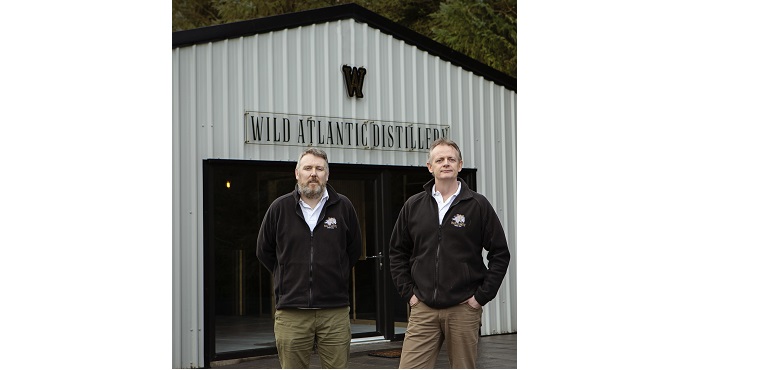 New single malt from Wild Atlantic Distillery
Wild Atlantic Distillery in Northern Ireland, already a producer of international award-winning Irish gin and vodka, is to launch a limited edition single malt whiskey next year.
The whiskey will be available in 2024 and will be called the 1921 release which will be exclusively to members of the distillery's successful Whiskey Club and will feature a special presentation in numbered bottles.
Wild Atlantic Distillery, which is based at Aghyaran, near Castlederg in county Tyrone, is also introducing the new whiskey to mark the closure of the historic Watts and Co Distillery in Derry in 1921, once the biggest whiskey distillery on the island of Ireland. The limited edition spirit will be known as 1921 Whiskey in honour of the earlier distillery.
Brian Ash and Jim Nash, the entrepreneurs driving the development of Wild Atlantic, Distillery are creating their own whiskey to be as close as practicable to the Watts and Co single malts, which included the original and world rated Tyrconnell, from mash bills used by the former Derry distillery.
Brian Ash explains: "Our single malt will be the first distilled in the North West of Ireland is over a century. It seemed fitting then that we should pay tribute to the iconic Watts and Co distillery in Derry, the capital of Ireland's North West region, a century after its sudden closure due to an industrial dispute.
"The growth in demand for premium whiskey with history and traditions, especially in the US, Canada and Australia, presented a significant business opportunity to use.
"The investment at the purpose-built distillery, which has been assisted by Tourism NI, is also creating employment opportunities and providing an attractive tourism destination in a part of Tyrone that's also within easy reach of Ireland's epic Wild Atlantic Way, a popular location for thousands of American visitors before the pandemic," adds Mr Ash.
"We've taken great care to find the mash bills for our process which will produce a triple-distilled spirit from our copper pot still that's been finished in bourbon casks, We've also used premium barley from grain suppliers in Derry and another part of Ireland," he adds. The mash bills were uncovered by whiskey researchers interested in the colourful history and traditions of traditional Irish whiskey.
Brian Ash and Jim Nash, both successful businessmen and also brothers-in-law are passionate about maintaining the long history of independent, traditional and craft distilleries in Ireland and particularly County Tyrone where they are based.
They formed The 1921 Whiskey Club to offer lovers of the golden spirit exclusive opportunities to be part of their investment in securing the traditions of the past for future generations. Lifetime membership, the unique club is for whiskey and history lovers combined, including a unique opportunity to celebrate the 200-year history of Irish Whiskey making traditions in the North West of Ireland.

Brian continues: "Purchasing or gifting a "Lifetime" membership with Wild Atlantic Distillery is a unique chance to be a part of Irish Whiskey history. Being an exclusive member ensures early access to new and special releases from the distillery as well as the opportunity to visit the distillery for special events, and discounts on products from our shop. It also features opportunities to win casks of whiskey.
Brian and Jim believe the wild, rugged and beautiful land around the Wild Atlantic Distillery nurtures the perfect conditions for creating ageing their traditionally crafted Irish whiskey.
The Atlantic Ocean provides the botanicals for their unique gin. It is inspired by the Porcupine Bank- a natural wonder 120 miles off the west coast.
Their vodka is infused with Amalfi lemons and inspired by the warrior Queen Maeve of Connaught. She was known as She Who Intoxicates.
The distillery already features a gin school, cocktail classes and distillery tours, making it an increasingly popular tourist attraction close to the Wild Atlantic Way, Derry city and the Causeway Coast of Northern Ireland.
Awards for existing products include the World Gin Awards 2021 Best Northern Irish Contemporary Gin 2 Bronze at the IWSC 2021 for its Wild Atlantic Irish Vodka
Jim Nash and Brian Ash, founders of Wild Atlantic Distillery in Tyrone.