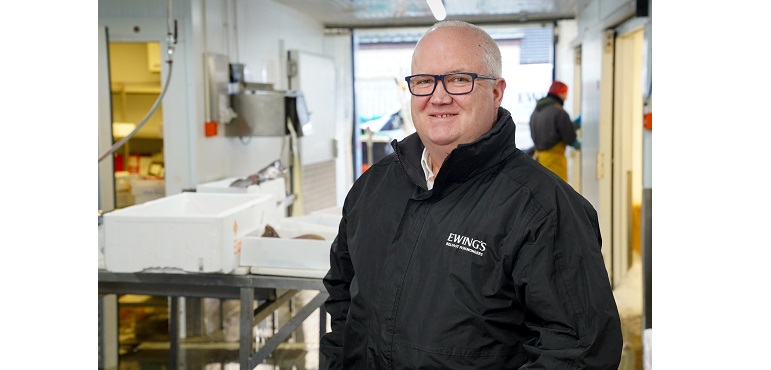 Ewing's in Belfast named 'The Best Fresh Seafood Supplier'
Ewing's Seafoods, the iconic fishmonger in Belfast, has been named 'The Best Fresh Seafood Supplier – Northern Ireland' in the prestigious Food and Drink Awards organised by the upmarket LUXlife magazine which has a global circulation of almost 250,000.
The family-owned and managed company, which operates a fresh fish and seafood processing operation and a retail outlet on the Shankill Road, near Belfast city centre, is among the best known and most successful seafood businesses in Northern Ireland, supplying a range of fresh fish and other seafoods to over 400 restaurants and hotels across the region.
LUXlife said the influential award had been made after rigorous judging by a team of experts. "All nominees were judged on their merits with assessment centres around an extensive evaluation of skills and services on offer," the magazine's Katherine Benton said.
"Our merit driven approach has brought us much commendation and allows our team to identify those most dedicated in demonstrating expertise and an unwavering commitment to excellence within their field," she adds.
Crawford Ewing, a director of the family business which started in 1911, is understandably delighted with the global recognition from LUXLife. He continues: "It's an immensely encouraging recognition after the challenges from the coronavirus pandemic over the past year when all our customers in hospitality were shuttered. There were challenges too in securing salmon and other seafood due to Brexit difficulties and the confusion that resulted from the Irish Sea Protocol.
"We also had to furlough employees to balance the business which became dependent on retail sales through our own small shop and with highly supportive local delis and Sainsbury's supermarkets.
"The award has given us all a much needed lift as we see our core business in hotels and restaurants recovering steadily. Good news such as this is very welcome," adds Crawford who runs the historic business with father Walter and brother Warren.
The company is also a major supplier of smoked fish including salmon and cod from its own smoker. The quality of its products have led to UK Great Taste Awards for smoked salmon and smoked cod loin.
LUXlife is a premium lifestyle publication which was founded in 2015 by the publishing company AI Global Media Ltd. Distributed to a circulation of 238,000 globally, LUXlife focuses on a range of topics within the luxury lifestyle industry, featuring articles on; fashion, beauty, fine dining, travel, luxury real estate and much more.