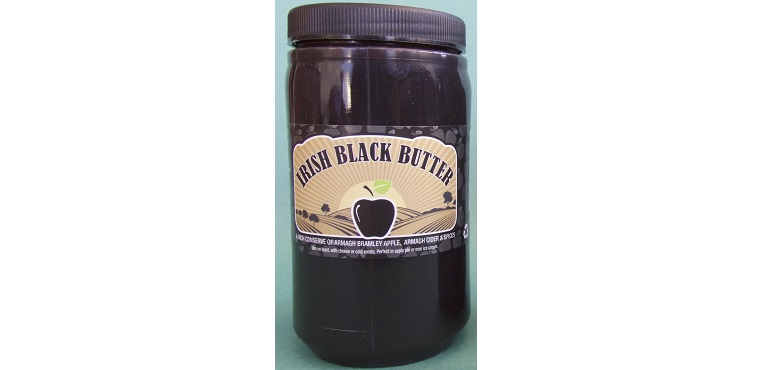 Irish Black Butter in key distribution deal with La Rousse Foods in Ireland
Multi-award winning Irish Black Butter is now available to chefs in hotels, restaurants and canteens throughout the island of Ireland from a new distribution deal.
The unique savoury/sweet spread made with Armagh Bramley apples, treacle and spices is now being distributed by Dublin-based La Rousse Foods, one of Ireland's leading food distributors to the hospitality sector in both Northern Ireland and the Republic of Ireland.
Commenting on the distribution deal, Alastair Bell, the founding managing director of Irish Black Butter, a unique spread which has won UK Great Taste Awards, included a coveted three stars, and Bla na hEireann Awards, says: "The agreement, a very significant business boost for us especially in the Irish Republic, a developing market with huge potential for us. It's hugely encouraging for us to have won this listing with such an important food business in the Republic. We've been involved with La Rousse for some time and have supplied them with samples to test with their customers. We have seen chefs specially in Northern Ireland such as Michael Deane of Deane's high profile and very successful restaurants in Belfast coming up with original dishes using Irish Black Butter as an ingredient."
"The interest in the spread from customers has now encouraged La Rousse to decide to add it to its portfolio of products for the hospitality sector. As well as being popular as an ingredient for meals, Irish Black Butter is also successful as a condiment for cheeseboards," Alastair adds.
The small company, which produces the spread in Northern Ireland, has developed distribution in the Republic to retailers through an agreement with Sheridan's in Dublin, the country's main supplier of a range of cheeses and accompaniments.
La Rousse Foods is an independent, 100 percent Irish-owned company, specialising in the supply of fine foods to premium food establishments since 1992. The distribution business now offers a wide range of fresh, seasonal and innovative produce from a network of local and international producers, always keeping informed of the latest food trends.
With its own butchery, cheese-maturing room and chocolate lab, La Rousse Foods provides bespoke solutions at short notice to cater to hospitality customers' ever-changing needs.
Based in Portrush, county Antrim, Irish Black Butter was established in 2017 by Alastair to provide a distinctive "New Taste of Ireland" from Armagh Bramley Apples which have EU protected status. Other ingredients include brandy and spices in a unique recipe developed by Alastair. The spread is also now on sale in Great Britain and the US.
The company has also developed peanut and hazelnut spreads and is supplying the black butter in 675g catering tubs to La Rousse.