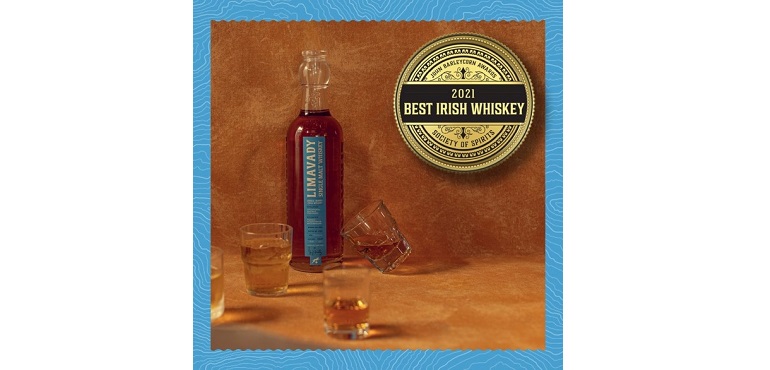 Major US recognition for Limavady Single Barrel Single Malt Whiskey
Limavady Irish Whiskey in county Derry, Northern Ireland has been endorsed by a panel of expert judges in the influential John Barleycorn Awards, one of the most important events in the US spirits industry.
Limavady Single Barrel Single Malt, launched last year by master distiller Darryl McNally on the back of a historic tradition of distilling in the Limavady area, was named Barleycorn Best Irish Whiskey 2021 and a Barleycorn Gold Winner 2021.
The expert judges described Limavady as "a soft and fruit forward malt with long lush, syrupy tendrils of vanilla coating creamily on every sip. This is malt silk, pure and simple, elegant and smooth on the palate".
The US award follow recognition by the Beverage Institute of Limavady in December as "a complex Irish Single Malt with big impact and big elegance".
Mr McNally says: "We are delighted to achieve such significant endorsement so soon after the launch of our unique spirit. They are marvellous boosts for us as we drive sales in the US."
Limavady is being developed by Mr McNally, a former master distiller at Old Bushmills in collaboration with US whisky distiller, Whistle Pig.
Based in Dallas, Texas, the John Barleycorn Society is described as "an assemblage of the world's top journalists and industry professionals who foster a modern approach to recognising excellence in the spirits industry from seed to glass".  It takes account of taste, print and digital marketing, package design, public relations, journalism, social media, event production, filmmaking, and bar design. Some of the general categories judged by its select panels. 
The John Barleycorn Society is "dedicated to redefining today's spirits awards by acknowledging the entire scope of the industry and revolutionising the process".
Spirits writers, marketers and designers are among the most influential forces in the spirits industry.
The John Barleycorn Society was started by a group of spirits journalists seeking to honour excellence in all facets of the industry. The journalists spent several years creating a comprehensive competition that became the John Barleycorn Awards.
An elite team of authoritative and influential spirits journalists was selected to administer the flagship component of the awards, a blind tasting competition which became the "preeminent arbitrator of spirits taste, quality and character".