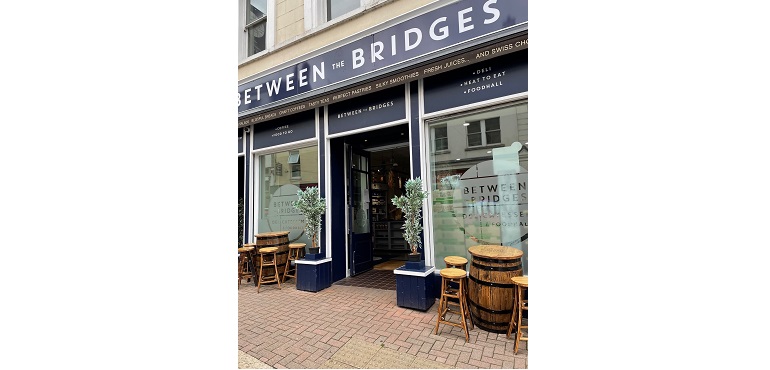 Artisan business growing fast through quality, value and service
A successful food hall, café and deli in Enniskillen run by two experienced chefs is set for major expansion that will mean eight new jobs in addition to the 14 people hired over the past nine months.
Declan O'Donoghue (36) and Paul Curry (41) launched Between the Bridges, a food hall and café, in the county town last April and are to open a second this month and are planning a third in Fermanagh later in the year.
The second outlet is scheduled to open on 31st January in Lisnaskea, a small town 12 miles from Enniskillen, and will provide the eight new employment opportunities. They have, furthermore, identified a site in the county for the third Between the Bridges.
As a result of this impressive expansion, the ambitious entrepreneurs expect to be employing a total of 30 people before the end of 2022. Both founding chefs also run successful small food businesses in Enniskillen; Declan owns Erne Larder, a producer of sauces, relishes and jams, while Paul owns Northern Smokehouse, a developer of smoked products.
They have also produced a range of sauces under the Flayver brand. Both chefs have won UK Great Taste Awards for their artisan foods.
"Our success in Enniskillen with Between the Bridges is based on our commitment to excellent products from our seven-strong kitchen team lead led by experienced chef Geri Beres, combined with great value for money and superb customer service. These will also underpin the new stores," says Declan.
"We now have an extensive menu of freshly prepared heat-to-eat meals which are proving extremely popular. These can be ordered for home delivery through our website (www.betweenthebridges-ekn.com).
"Christmas and the New Year were exceptionally busy. We sold almost 150 prepared Christmas dinners and supplied hundreds of food hampers with our own products and those from other local artisans," he adds.
The Enniskillen deli currently sells 3,000 heat-to-eat meals, 800 deli sandwiches and 500 fresh salads prepared by its kitchen team every week. There's also a range of Counted meals for calorie conscious consumers.
In addition to its sales in Fermanagh, the deli has linked up with the Cass and Co retail operation in Dungarvan, Waterford in the Republic of Ireland to supply hundreds of heat-to-eat meals every week.
The food hall in Enniskillen also features an extensive range of food and drink from artisan producers in Northern Ireland and the Republic of Ireland including cheese and condiments.