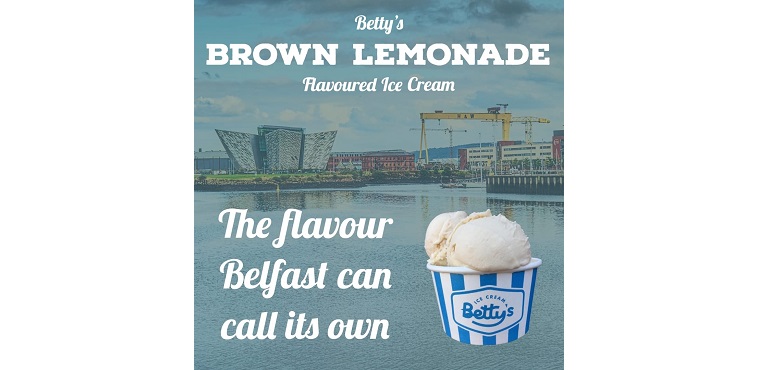 Brown Lemonade flavour ice-cream from Betty's
Betty's Ice-Cream is hoping to bring back a little bit of nostalgia for Northern Ireland folk with the launch of their latest flavour. Brown Lemonade flavour ice-cream is a collaboration between Betty's Ice-Cream and Mr Brian Magill, Chef at South Eastern Regional College in Bangor. Brian asked Betty's if they could create a Brown Lemonade flavour ice-cream for their dessert menu in the Street-Food Competition at IFEX 2022. Brian Magill and his team were presented with three recipes and opted for the one that was used in their prize-winning menu. As a business we see ourselves as a boutique artisan ice-cream producer working with the customer and their innovative ideas for flavours and then bringing it to life.
Brian was on a quest for a flavour that would bring out the history, heritage and nostalgia of the shipyard when the workers drank Brown Lemonade instead of stout, with their 'piece.' Brown Lemonade was a big thing in industrial Belfast, especially within the shipyards because alcohol was banned and Brown Lemonade was brought in for the workers so that they would stay sober.
With the feedback we have been getting for this flavour we have decided to launch it on the market with Belfast hospitality and retail being a key market. We see this as being ideal for tourists and hospitality as people share the background story of how Brown Lemonade came about and then link it with the building of some of the most famous ships in the world.
Susan Doherty of The Belfast Barge immediately saw the relevance of the story to their museum and café and offered us the facilities to officially launch our new flavour in Belfast a short distance from where Brown Lemonade was consumed by the gallon in H&W shipyard.
We are delighted that so many things have fitted into place and believe that this flavour will give Belfast something to talk about. This launch will give Belfast an ice-cream flavour which they can call their own.
Orders can be placed on our website www.bettysicecream.co.uk or if you are in hospitality we would love to chat about getting this flavour on your menu.