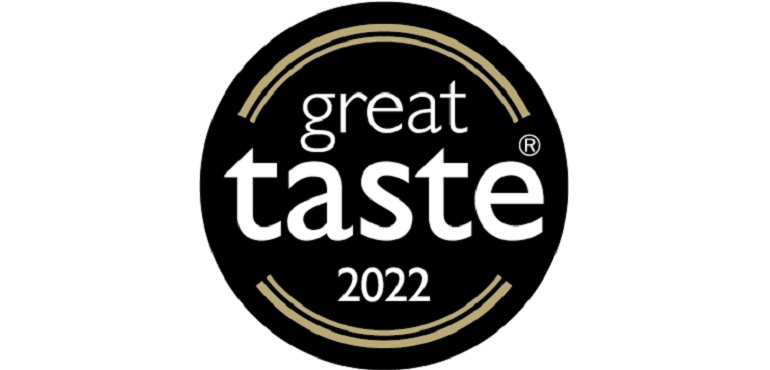 The results are out for Great Taste 2022!
Today, thousands of artisan food producers from across the globe discover if any of their products have scooped a prestigious Great Taste award, after being blind judged by more than 500 judges. Northern Ireland wins not one, but 159 awards in the world's largest food and drink accreditation scheme based entirely on taste.  
The region takes home an impressive 5 x 3-star awards, 21 x 2-star awards and 133 x 1-star awards this year including the following:
Great Taste 3-star – Ballylisk Dairies Ltd - The Single Rose, Ballylisk of Armagh farmhouse brie; Baronscourt Estate - Wild Sika Venison Loin; Corndale Charcuterie - Corndale Chorizo Picante; Morelli Ice Cream - Morelli's Raspberry Sorbet; Musgrave Retail Partners NI - SIGNATURE TASTES GORGONZOLA CHEESE (BULK)
Great Taste 2-star – Breakfast tea from SUKI Tea Makers (only 8.7% of the 14,205 2022 entries received a 2-star – "above and beyond delicious")
Great Taste 1-stars – Handmade christmas pudding and All butter sticky toffee pudding from Jam at the Doorstep (28.7% of the 14,205 2022 entries received a 1-star – "food & drink that delivers fantastic flavour")
The full list of this year's winners and where to buy them can be found at www.greattasteawards.co.uk and a wide range of the award-winning products are available to buy in delis, farm shops and independent retail outlets across the country.
What is Great Taste? 
"Whenever I see a black and gold Great Taste sticker on a product, I just have to buy it. Especially if it's a 2- or 3-star, I know how hard it is to get that rating, and how good it will taste. Even if it's something random like anchovy paste, you can bet it's the best tasting anchovy paste you'll ever have tasted!" said a regular Great Taste judge.
Recognised as a stamp of excellence and actively sought out by food lovers and retailers alike, Great Taste, organised by the Guild of Fine Food, values taste above all else. All products in the line-up for judging are blind-tasted: every product is removed from its packaging so it cannot be identified, before entering a robust, layered judging process.
This year, the judging took place over 90 days across two judging locations (Dorset and London) with a panel of more than 500 judges. This year's line-up saw food and drink products submitted from a staggering 110 different countries from across the world.
Great Taste's prestigious judging panel is made up of over 500 food & drink professionals, including critics, chefs, recipe creators, buyers, retailers, journalists, broadcasters, and experts in the field. 2022's judging line-up included head buyers from Selfridges, Whole Foods, Fortnum & Mason and Waitrose, BBC Good Food editor Keith Kendrick, delicious. editor Karen Barnes, Bake Off contestant and author Chetna Makan, MasterChef Professionals finalist Santosh Shah, food and drink consultant Mallika Basu, BBC's Nigel Barden, national television presenters Lotte Duncan and Juliet Sear, restaurateurs Kavi Thakrar (Dishoom) and Amy Poon (Poon's), journalists including Felicity Cloake (The Guardian), Xanthe Clay (Telegraph) and Joanna Blythman (multiple national titles), as well food writers Gill Meller, Melissa Thompson, and Georgina Hayden among many others. This experienced panel, each with trusted palates, have together tasted and re-judged the 3-star winning products to crown the Golden Fork trophy winners as well as the Great Taste 2022 Supreme Champion.
John Farrand, managing director at the Guild of Fine Food comments: "We are chuffed to be unveiling the list of award-winners for 2022 today. It's been another exceptional year of high quality, innovation, and creativity. We're seeing a steady increase in plant-based products year-on-year and the fermented and functional foods are really starting to hold their own in terms of taste.
"I was extremely impressed to see that many of the entries have come from businesses which started trading in the last year or two, these are companies who incorporated in the middle of the most challenging period in economic and social history. And they're thriving.
"It isn't easy doing what these producers do, neither for the start-ups nor the established businesses. Growing a business and a brand in the food industry has so many variables to consider from standards, to policies, learning to sell and market your products, and that's before you think about aiming for excellence in the taste and flavour of your products. I have the utmost admiration for them all."
Overall, an impressive 5,556 products received either a Great Taste 1-star "food & drink that delivers fantastic flavour", a Great Taste 2-star "above and beyond delicious", or a Great Taste 3-star "extraordinarily tasty food & drink" out of a staggering 14,205 entries. 
What happens next? 
These Great Taste award-winners can now proudly display the iconic black and gold Great Taste logo on their award-winning products, the logo states the year and whether the product was awarded 1, 2 or 3 gold stars, so make sure to look out for them in your local stockist!
Past winners have claimed that displaying a Great Taste sticker has increased sales by as much as 50%; as food-lovers from around the globe clamour to taste the best food and drinks products of 2022. 
Great Taste Golden Fork Ceremony 
The fun doesn't stop here, for the award-winners it's only just the beginning as the highest scoring producers now go through to the regional finals!
The Golden Fork Ceremony celebrates the best from each region (northeast, southwest etc), with the winner being awarded a Golden Fork trophy – there are ten up for grabs. Plus, the ultimate winner of Great Taste 2022 – The Supreme Champion – will be crowned for winning the highest-scoring 3-star product of the year.
All will be announced at the Great Taste Golden Fork Ceremony on Monday 5 September 2022, held at Southwark Cathedral.