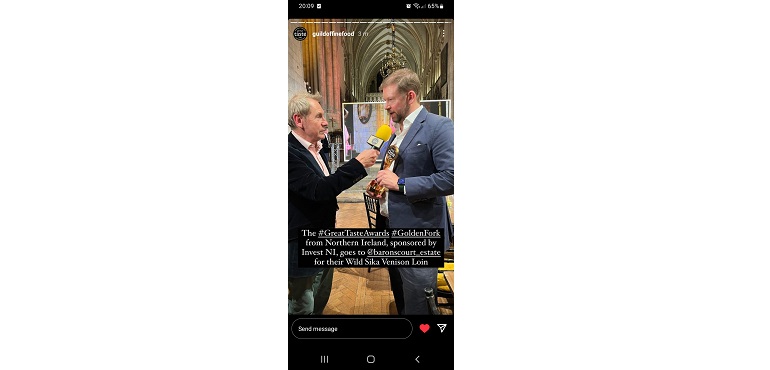 Baronscourt Estate's Sika Venison crowned winner of Northeren Ireland Regional Fork award
Cambodia's Kadode Kampot Pepper UK was named Great Taste Supreme Champion 2022 at the annual Golden Forks reception, which this year was hosted at Southwark Cathedral on Monday, 5th September 2022.
It has been a year of commendation for Kadode, who received the award for its Fermented Fresh Green Kampot Peppercorns, and as one of the 633 companies to have entered products from overseas, picked up another accolade for the Best International Food and Drink. Its Fermented Fresh Red Kampot Peppercorns also won 3-star Great Taste recognition.
In becoming the Great Taste Supreme Champion, it staved off competition from 2,243 other producers, and topped a record list of 14,205 products entered into this year's Great Taste awards, which were judged blind by a panel of more than 500 food and drink professionals over 90 days, across the Guild of Fine Food's two offices in Dorset and London.
This year, 4,078 products were awarded a Great Taste 1-star; 1,237 won a Great Taste 2-star, and the peppercorns were among 241 Great Taste 3-star award-winning products, which were rejudged to select 14 Great Taste Golden Fork winners.
These were revealed at the Guild of Fine Food's first award's ceremony to be hosted at Southwark Cathedral, on the same day as an inaugural ticketed event open for the public to come and taste 25 of the highest scoring Great Taste 3-star awarded food and drink.
The Supreme Champion's fermented green peppercorns are grown and processed in the Phnom Voir Mountain range in southwest Cambodia. After they are picked, they are exposed to a lactic-acid-producing bacteria (similar to those used to produce sauerkraut, kaffir and sourdough bread), before being preserved in Kampot fleur de sel.
The result, according to 3-star judge and celebrated food writer Melissa Thompson, is an "addictive" fruitiness, tang and heat defying the common concept of pepper being a 'one note flavour'.
Described by Great Taste judges as "an extremely interesting product with a delicate scent of salt on the nose", they enjoyed the "soft crunch of the peppercorns and the layers of flavour that started salty, then fruity, then a kick of heat".
On hearing about the peppercorns' success, co-found Michael Winters said, "I have no comprehension of how a humble peppercorn has won a Supreme Champion award. It's just fantastic."
 shift from often celebrated meat, fish and cheese in the Great Taste Awards, the Guild of Fine Food's managing director, John Farrand, said the peppercorns were "probably one of our most interesting winners to date", attesting to a change in flavour trends favouring more fermented and plant-based foods.
Visit www.kadodepepper.co.uk to find out more about Kadode Kampot Pepper UK.
The reception was the final event in the Great Taste calendar for the year, but you can catch up on all of the action here:
Facebook: @greattasteawards
Instagram: guildoffinefood
Twitter: @guildoffinefood
LinkedIn: Guild of Fine Food
YouTube: Guild of Fine Food
Website: gff.co.uk/greattaste
Great Taste 2022 Golden Fork award winners:
Great Taste Golden Fork for Best International Food and Drink – Kadode Kampot Pepper UK for Fermented Fresh Green Kampot Peppercorns
Great Taste Golden Fork for Charcuterie Product of the Year – Highland Charcuterie and Smoke House for Wild Highland Venison Salami with Juniper, Smoked with Peat
Great Taste Golden Fork from East Anglia –Alder Tree for Blackcurrant Ice Cream
Great Taste Golden Fork from Ireland –Scúp Gelato for Natural Yogurt
Great Taste Golden Fork from London –Jemima's Deli for Jemima's Tahini Granola
Great Taste Golden Fork from the Midlands –GCL Food Ingredients for Nduja & Honey Mezzaluna
Great Taste Golden Fork from the North of England –Mr Vikki's for Black Lime Chutney
Great Taste Golden Fork from Northern Ireland –Baronscourt Estate for Wild Sika Venison Loin
Great Taste Golden Fork from Scotland –Heather Hills Farm for Scottish Heather Comb Honey
Great Taste Golden Fork from the South East and Great Taste Startisan of the Year –Sozye for Noya Sauce – Soya Sauce Alternative
Great Taste Golden Fork from the South West and Great Taste Small Artisan Producer of the Year –The Artisan Kitchen for Blaisdon Red Plum Jam
Great Taste Golden Fork from Wales –Bay Coffee Roasters for Indonesian Sumatran Fairtrade Organic
Nigel Barden Heritage Award – Martins Meats for Dry-aged Lamb Hogget Chops
The Guild of Fine Food also awarded its annual Lifetime Achievement award for contribution to the food and drink industry to Stuart Gates, former managing director of Fortnum & Mason and former director of Daylesford Organic and Harrods.