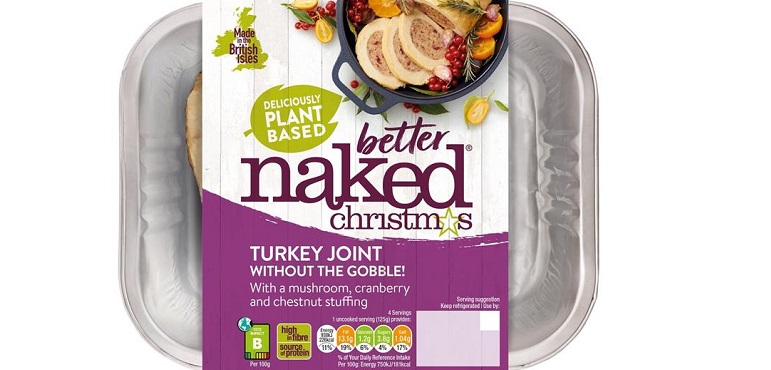 Finnebrogue Artisan launches first plant-based Christmas turkey joint
Finnebrogue Artisan has launched its first plant-based Christmas 'turkey joint' under its Better Naked brand.
The Better Naked Turkey Joint Without the Gobble is a turkey-inspired joint made from wheat and pea protein, manufactured in Finnebrogue's plant-based focused factory in Northern Ireland.
It is stuffed with cranberries, mushrooms and chestnuts, "ticking all the right boxes for a tasty Christmas centre of plate, just without the meat". The NPD is also claimed to be high in fibre, low in saturated fat and a source of protein. 
"The red onion confit with its cloves and cinnamon, together with the sprig of fragrant rosemary on top, provides an enjoyable festive aroma during cooking," said Barbara Mullan, Finnebrogue's NPD manager.
The product rolled exclusively into Waitrose on 14 December (rsp: £7/500g).
Finnebrogue isn't the only manufacturer pushing festive-themed meat alternative lines in the run-up to Christmas.