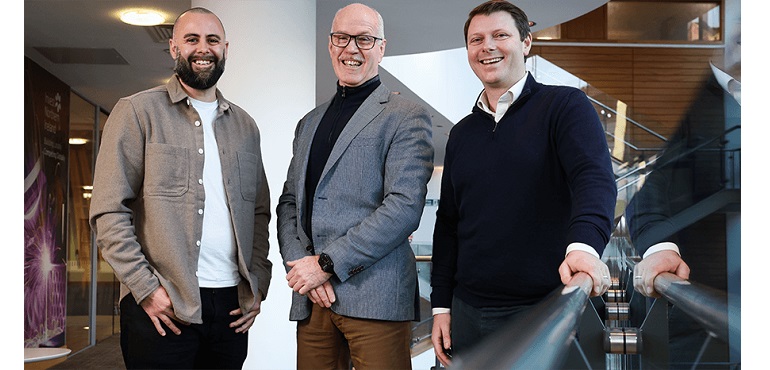 Plate-Up to establish a new Northern Ireland Operations Centre and create 16 jobs
Tech start-up, Plate-Up is to establish its new Operations Centre in Belfast, which will see it create 16 new hybrid-working jobs.
Established in 2018, the SME has developed a recipe and online grocery shopping app that provides users with an all-in-one meal planning and online shopping experience. Users can select from over 500 carefully selected recipes, tailored to their own dietary preferences, and have the ingredients for these delivered to their house along with other household items from a supermarket of their choosing.
Conor Boyle, co-founder of Plate-Up, and originally from Bangor, Co Down, said: "We are delighted to announce that we are establishing our new Operations Centre in Northern Ireland.
"I am originally from Northern Ireland and know first-hand the quality of talent available here. With Invest NI's support, this is now a reality and we can begin to increase our capabilities, expand our operations and achieve our goals to grow on a global basis."  
With its new Operations Centre, Plate-Up will bring the future technical development of the app in-house, and build the necessary sales and marketing, operations and finance functions to grow and expand into new markets.
Invest Northern Ireland has offered the company support towards the creation of the 16 jobs.
Speaking about Invest NI support and guidance which helped attract the company to Northern Ireland, Alan Wilson, Head of International Investment, Invest NI, said: "Northern Ireland has a strong tech sector, and it is great to see our reputation encouraging new companies like Plate-Up to invest here for the first time. I'm particularly delighted that this project is being brought to Northern Ireland by a member of our vibrant diaspora community.
"This investment will place the company in a prime location to focus initially on growth within the UK, before expanding into new export markets in the US and Australia. We have offered the company support towards the creation of 16 new hybrid-working roles, which will help attract people from across Northern Ireland. A number of locations were in the running for this project and we are delighted to have helped secure this investment which will add £619,000 to our economy through annual salaries."
Pictured (L-R) are Jack Martin, Co-Founder, Plate-Up; Alan Wilson, Head of International Investment, Invest NI; and Conor Boyle, Co-Founder, Plate-Up.