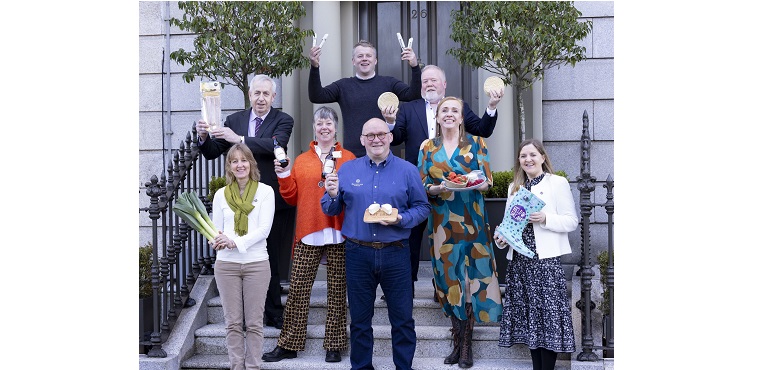 Irish Food Writers' Guild celebrates 30 years of Food Awards with spotlight on Cheese, Eel, and Ale
From eel and ale and sheep's milk yogurt to eco-friendly pig farming, the winners of the 30th Irish Food Writers' Guild Food Awards are a diverse group that represent a commitment to provenance, sustainability, quality and flavour above all else.
With just eight prestigious awards presented, the biggest winner of the day was Irish cheese, with Ballylisk of Armagh, Gabriel Faherty of Aran Island Goats' Cheese and brothers, Kevin and Seamus Sheridan of Sheridan's Cheesemongers all picking up awards at the 2023 Irish Food Writers' Guild (IFWG) Food Awards.
Speaking about this year's awards, Caroline Hennessy, chair of the IFWG said: "Since the Food Award's inception, each winner has been chosen independently and anonymously by IFWG members, recognising the best in Irish food by shining a light on smaller producers who might otherwise slip under the radar. From traditional products of the highest quality to new innovations, this year's winners exemplify what is so exciting about Ireland's food and drink industry right now."
The winners of the 2023 Irish Food Writers' Guild Food Awards are:
Three decades on from the first IFWG Food Awards, Caroline Hennessy took a moment to celebrate how the industry has evolved and how this has been reflected in the Food Awards each year: "When the IFWG Food Awards began in 1993, it was with the aim of promoting and celebrating Ireland's indigenous food producers and, as Ireland's artisan food scene has developed and flourished, our core principles have remained true.
"Guild members have always shared a passion for nurturing a proud and vibrant Irish food culture. Thirty years on from those first awards, we are fortunate to live in a country where there is more attention paid to the food we eat, to who is producing it and how it is produced.
"Many of the winners from the early years are still familiar names today, proof of their enduring quality and we have no doubt that this year's cohort of winners will continue that legacy."
Una Fitzgibbon, Director of Marketing at Bord Bia, which sponsors the IFWG Food Awards, said: "Bord Bia is delighted to support The Irish Food Writers' Guild as it consistently highlights the outstanding quality, craftsmanship and innovation in Ireland's artisan food industry through these awards. Now in their 30th year these awards have honoured those in the sector that take ingenuity and entrepreneurship to the next level.  Congratulations to all those involved in these prestigious food awards and, of course, to the very deserving winners."
The Irish Food Writers' Guild Food Awards were celebrated at Dublin's Suesey Street, with a lunch created by Head Chef Deniss Lasenko, featuring the winning produce. The Guild is grateful to the team at Suesey Street, Liberty Wines and Teeling Whiskey for their support.
The IFWG Food Awards are unique. No business or individual can enter, nor do they know if they have been nominated or shortlisted for an award. The Guild is the sole nominating and decision-making body* whose members nominate and anonymously buy products for tasting. Proportional representation voting is then undertaken at a Guild tasting meeting. Winning products must be produced in Ireland and the main ingredient must be Irish grown or produced.
* The exception to this is the Community Food Award, for which the Guild invites nominations every year from the general public as well as their own members.
Lunch menu for the 2023 awards, featuring the winning produce:
Drinks Reception – Beoir Chorcha Dhuibhne, Beal Bán

Selection of Sheridans' Cheese, Crackers & Chutney