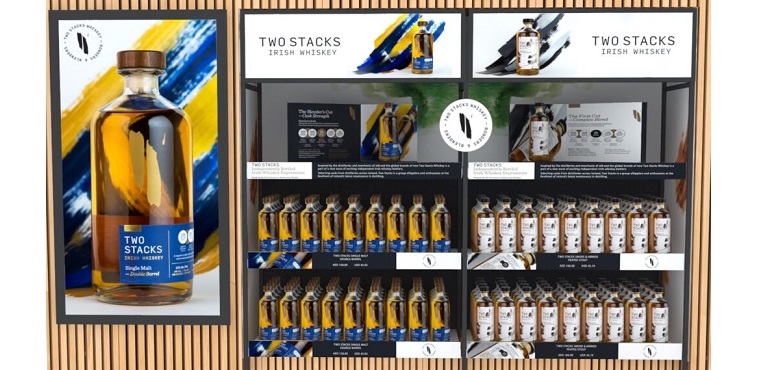 Dubai Duty Free casts spotlight on Two Stacks Irish whiskey - by Colleen Morgan-Colleen@moodiedavittreport.com Source: ©The Moodie Davitt Report
Innovative Irish whiskey brand Two Stacks has extended its footprint in travel retail through a new listing with Dubai Duty Free. The leading travel retailer is the first in the Middle East to champion Two Stacks single malts, with a spotlight on Smoke & Mirrors Peated Stout and Single Malt Double Barrel.
Two Stacks is featured as Malt of the Month until 3 April and also highlighted through stand-out gondola and wall fixtures.
The campaign underlines the brand's contemporary vision and the growing strength of Two Stacks' peated expressions in the Irish whiskey category while also targeting Saint Patrick's Day (17 March) shoppers.
Two Stacks products, including its innovative Dram in a Can, are also listed with ARI at Dublin and Cork airports and Qatar Duty Free.
As reported, the Two Stacks story began around seven years ago, when three friends – Shane McCarthy, Donal McLynn and Liam Brogan – created Ireland Craft Beverages, a company that has since played the role of blender, bottler, exporter and distributor for independent Irish drinks brands around the world.
Deciding that they wanted to produce as well as distribute, they created Two Stacks Whiskey in 2020.
The name derives from the towering twin chimney stacks of an old distillery in Dundalk, further down the Irish east coast, which were so high that they once served as a navigation point for sailors plying routes up and down the Irish Sea.
The brand's mission is to build Ireland's top independent bottling brands through innovative products, such as the Dram in a Can concept, which serves Two Stacks' 43% five-part blend in a 100ml can, with multi-packs also available.
Two Stacks champions transparency through detailing full percentage blends, cask type and location of all its distillate's on all products.
According to Two Stacks, its approach to high quality whiskey releases has "not only brought a fresh and contemporary feel to the industry, it has also caught the attention of the global travel retail space".
In collaboration with MTR Consulting Services Consulting and GMAX Travel Retail, Two Stacks Co-founder Shane McCarthy said the brand has been "relentlessly pursuing the global travel retail space in an effort to show the world everything they are missing in their new era of Irish whiskey".
"Our purpose was to showcase a true taste of Ireland worldwide. We aim to build trust with consumers through innovative and quality whiskey releases, with a layer of experimentation to highlight the fun elements in the art of blending, while laying it all bare for consumers to see for themselves through detailed info-graphics printed onto each and every product releases," he added.
"In only two short years, Two Stacks Whiskey has seen major success with distribution across 35 countries domestically, including 30+ states in the USA. Global travel retail has embraced the new products with open arms, seeing the popular products sell through in Dublin, Cork, Qatar and now Dubai Duty Free."
Two Stacks Double Irish Cream Liqueur – a newcomer to the brand's product line-up – is set to launch in global travel retail this year. The expression will be highlighted at the upcoming 2023 Summit of the Americas at the Palm Beach County Convention Center, West Palm Beach, Florida in April.
Two Stacks will participate with Blue Caterpillar (Suite 1E). As reported, the boutique spirits distribution company struck a five-year agreement to distribute Two Stacks in Americas and Caribbean travel retail, alongside some domestic markets.
"We are very excited to share with the world our new Double Irish Cream, championing a new level of transparency in this category," McCarthy said.
He noted that Two Stacks uses eight times more Irish whiskey than the market standard, and is the first brand to use peated malt whiskey in this category, in a partnership with Robert A. Merry & Co. in Clonmel, County Tipperary.