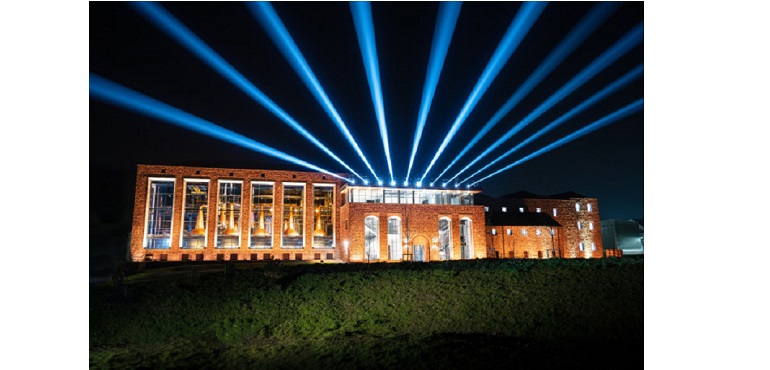 Bushmills opens £37 million Causeway Distillery
Irish whiskey Bushmills has opened its £37 million (US$46m) 'state-of-the-art' Causeway Distillery, more than doubling its production capacity.
The new facility, located adjacent to the Old Bushmills Distillery, is part of parent company Proximo's £60m (US$74.6m) investment in Irish single malt distilling and maturation at Bushmills over the last five years.
Causeway Distillery takes its name from the Giant's Causeway not too far from the distillery, and spans 39,000 square feet.
The new distillery takes Bushmills' production capacity from five million litres of alcohol per annum to 11m litres per annum, while retaining the exact whiskey character of the original site.
Whiskey produced at Causeway will be used to make Bushmills whiskey, not a standalone brand. The opening comes as Bushmills saw sales by volume grow by more than 10% in 2022, taking the brand over the million-case sales mark for the first time.
Colum Egan, Bushmills master distiller, said: "We are obsessed with exceptional whiskeys – the ingredients, the processes, the wood, the ageing.
"Our second distillery represents a great step forward in ensuring generations to come will enjoy our renowned signature triple-distilled single malts alongside the innovations of the future."
Causeway Distillery has been built using the latest thermal technology, meaning energy use has been cut by 30%. Plus, distilling innovations incorporated into the design have increased material consumption efficiency by up to 10%.
The distillery will be run entirely on electricity from green sources. Additional sustainable endeavours include supplying by-products to local farms as animal feed, offsetting 12,500 tonnes of carbon emissions by planting 80,000 trees, and striving for fully recyclable gift packaging by 2024.
To mark the opening of Causeway Distillery, Bushmills has added two single malt whiskeys to its core collection: a 25-year-old and a 30-year-old.
Bushmills 30 Years Old was distilled in 1992 and is the oldest expression in the brand's core collection to date.
The whiskey was aged for 14 years before spending a further 16 years in Pedro Ximénez Sherry casks. Tasting notes include aromas of raisins, figs, prunes and soft clove, leading to praline, orange peel, figs, dates and pastry on the palate.
Bottled at 46% ABV and without chill-filtration, the whiskey will retail for RRP £1,990 (€2,000/ US$2,360) per 750ml bottle.
Bushmills 25 Years Old also sits at 46% ABV and has been bottled without chill-filtration.
The whiskey spent between four to six years in barrels before being transferred into ruby Port pipes for up to 21 years.
On the nose, the whiskey is said to offer sweet almond, caramelised cherries, plums and blackberries. The palate brings dark chocolate, sweet spice, honey and damson.
The whiskey has been priced at RRP £790 (€850/US$1,050) per 750ml bottle.
Alex Thomas, Bushmills master blender, said: "Oak has been our infatuation for over 400 years.
"Over 30 years ago, we travelled all over Europe to hand-select the casks for these fabulous whiskeys. We collaborated with winemakers to specify the fortified wine recipe used to season them and create the flavours of our future Bushmills whiskey.
"We still engage in this process, down to the detail of cask toasting times and temperatures before we add the wine. We leave the casks to season for at least a couple of years in the hot European climate before transporting them back to Bushmills. We only ship them during colder months to keep them 'fresher' for the long maturation ahead.
"We're proud of that mastery and expertise that ensures every cask is at its freshest and most flavourful to mature our Bushmills whiskey. It means our 25-year-old bursts with intense hedgerow dark fruit and a luxurious honey sweetness.
"It ensures our 30-year-old boasts an exquisite and enticing raisin, fig and praline richness. Even though it takes a lifetime of skill to make something great, it takes an obsession to make something legendary."
Caption: Causeway Distillery: the £37m facility will double Bushmills' production capacity