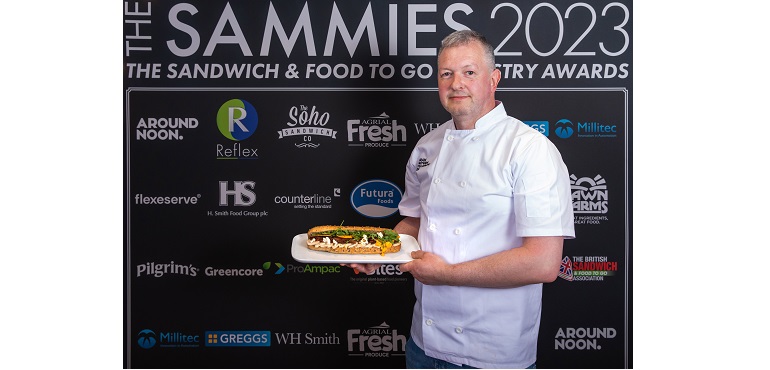 Around Noon's Kieran McGivern named one of the industry's best sandwich makers
Kieran McGivern, an executive chef at Around Noon, the award-winning food-to-go manufacturer, has been named as one of the food-to-go industry's best sandwich makers after winning two awards at the Sandwich & Food to Go Designer of the Year competition.
The competition is a major highlight of The Sandwich & Food to Go Awards – also known as The Sammies – an annual awards programme organised by The British Sandwich and Food-to-Go Association.
Kieran scooped two category-winner titles for his 'Blockbuster Chicken and 'So Many B's' sandwiches at the awards ceremony which took place in early May.
For his movie-inspired 'Blockbuster Chicken' entry, Kieran combined chicken and bacon with chopped-up popcorn blended with mayonnaise. He then added bacon cooked in Coca-Cola, some nachos, cheese sauce and jalapenos, then finished it all off with rocket in a sub roll.
His second entry, entitled 'So Many B's', elevated the classic BLT with bacon, mixed leaf and tomatoes served with brie, mayo and Ballymaloe Relish on Granary Bloomer bread.
The competition invited sandwich professionals from across the country to enter by creating an innovative sandwich or food to go product using the category sponsor's ingredient as the key element, together with other food components of their choice. There were five categories in the 2023 competition which were Futura Food, Gierlinger, H. Smith Food Group, Mona Dairy and VBites.
Kieran and his fellow finalists went head-to-head to create the best-tasting, best-looking and most innovative sandwich, all under the watchful eyes of the expert judging panel. Renowned chef Theo Randall and comedian Andrew Ryan revealed category winners and the overall champion during a gala evening celebrating the industry at the Royal Lancaster, London.
Jim Winship, director of The British Sandwich & Food to Go Association, said: "What we tasted at this event were no ordinary sandwiches. With ingredients like apple and stilton custard, crispy chicken and wasabi, bacon and Brussels sprouts, our chefs are continually pushing the boundaries of creativity within everyone's favourite everyday dining staple. We've tasted some truly tremendous sandwiches!
"Kieran's creations were noticeably different. Not only had he spent time creating sandwiches that stretched the norm, but he also spent time on his presentation for the judges too. His passion shone through, and the taste combinations really worked. I have never eaten popcorn in a sandwich before – and it worked!"
Kieran said: "It was a real privilege to be involved in this competition and to share a stage with so many talented individuals. Their pursuit for better in the food-to-go industry, combined with their creativity and artistry, is inspiring. Picking up two awards makes it all the more rewarding.
"These two winning creations are but a small sample of the innovation the entire Around Noon team applies to understanding the needs and wants of the modern consumer on the move. I'm very proud to work with a company that affords such immense scope to reinvent and reimagine what quality food-to-go can be and for those efforts to be recognised by the industry."
Around Noon has been in business for over 30 years and employs over 400 people. It already supplies a broad range of high-quality chilled, hot, frozen and bakery products to customers in the travel industry, forecourt and convenience retailers, large multiples, cafes and more throughout the UK and Ireland.