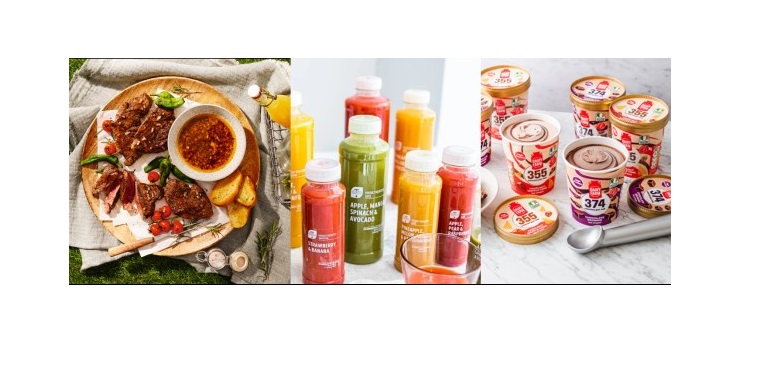 Feast your eyes on Lidl Northern Ireland's delicious range of summer foods and treats
With sunnier days, brighter evenings and warmer weather in sight, it's time to get excited for dining al fresco. Nothing says summer like a barbecue on a warm summer's eve, and Lidl Northern Ireland has all the essential ingredients you need for the ultimate summer dining experience.
From Lidl Northern Ireland's Bord Bia Quality Assured Irish beef for the barbecue, to delicious summer salads for a garden party, smooth ice-cream treats for an idyllic picnic, or a chilled glass of rosé to cool you down – there's More For You This Summer at Lidl Northern Ireland.
Beef up your barbecue
If you're a fan of a classic barbecue, Lidl Northern Ireland's Deluxe Irish Angus Beef Quarter Pounders (4pk - £3.29), paired with the Deluxe Brioche Burger Buns (£0.95) are the perfect summer match. Alternatively, for a quick and easy, fuss-free dinner to feed the full family, why not try the Quick Cook Beef Burgers (8pk - £5.99) and Quick Cook Chicken Fillets (£3.39). 
For those that like an appetiser before their burger, Lidl Northern Ireland's flavoursome Seasoned Chicken Drumsticks (£2.19) and Seasoned Chicken Wings (£2.49) are the perfect addition to your summer feast. 
When inviting guests around for a barbecue this summer, treat them to a taste of luxury with Lidl Northern Ireland's Irish Smoky BBQ Sizzle Steaks (£3.99) or the Dry Aged Angus Rib Steak Burgers (£2.99) which are guaranteed to impress when you pair them with Lidl Northern Ireland's tasty new Batt's Steak Sauce (£1.99).
Sumptuous summer salads
Liven up your lunchbox or barbecue with fresh and vibrant summer salads that celebrate seasonal produce. Lidl Northern Ireland has a vast range of Super Salads starting from £1.49, including deliciously fresh Chipotle Potato Salad (£1.49), Chipotle Coleslaw or Burger Slaw (£1.79), that are sure to be the perfect accompaniment to your burger, hot dog or steak.
Or pimp up your picnic with Lidl Northern Ireland's extensive range of healthy salads and dressings, including Caesar Slaw (£1.79) Chicken & Pesto Pasta Salad (£1.99) and Asian Noodle Salad (£2.29).
Time to ketchup
There's a sauce for every occasion, whether it's your cupboard essential or fridge favourite. Add some sauce to the summer season at Lidl Northern Ireland with the classics, including Tomato Ketchup (£0.99), Classic BBQ Sauce (£1.19), Burger Sauce (£1.79) and Vegan Mayo (£1.99). For the adventurous sauce connoisseur, try Lidl Northern Ireland's range of Flavoured Mayo (£1.79) including Taco Mayo, Peri-Peri Mayo and Garlic Mayo.
Keeping it cool
With the promise of higher temperatures making a welcomed appearance and the on-the-go seasonal activities in full-flow, it's always good to have frozen treats on hand to keep you cool. This summer, Lidl Northern Ireland's exclusive Gelatelli brand has a fabulous range of treats including classic Mini Ice Cream Cones (£1.99), Mini Push-Up Lollies (£1.49) and Milk Lollies (£0.79). For something more decadent after dinner, the Gelatelli Ice Cream Bars (£2.19) in Peanut and Caramel flavours and the Dairy Farm Low-Calorie Ice Cream (£2.69) in flavours Sea Salt Caramel, Chocolate Brownie and Hazelnut Waffle Cone, are sure to satisfy your sweet tooth.
Satisfy your thirst!
No barbecue or picnic is complete without Lidl Northern Ireland's refreshing summer drinks line-up to satisfy your thirst. Enjoy some delicious and nutritious Irish made Cold Pressed Fruit Juices (£1.69, 500ml) and Cold Pressed Smoothies (£2.49, 750ml) available in a variety of fruity flavours including Pineapple, Melon, Mango and Passionfruit and Orange, Apple and Strawberry.  If your celebration takes you into the evening for a summer soirée, impress your guests by with zesty and delicious Bitterol Sprizz for just £6.75 available throughout the summer season at Lidl Northern Ireland while stocks last.
For summer celebrations, pop open a bottle of Prosecco Treviso DOC Frizzante (£5.48) to keep the party going.  If you would prefer an ice-cold beer, Lidl Northern Ireland's renowned Crafty Brewing Co.'s 500ml bottles are just £1.99 each and are the perfect way to quench your thirst in the warm summer evenings. For those who enjoy a chilled rosé, the distinctive taste of the fine, dry MITHUS Basilicata IGP Rosato (£7.99) or the refreshing Les Cinq Rameaux Coteaux D'Aix en Provence AOC Rosé (£6.99) will hit the spot. For crisp white wines perfect for summer sipping, look no further than the fruity pear flavours of the Vernaccia di San San Gimign – Corte Alle Mura for only £6.99, or the modern, generous style of the Corte Allodola Soave Classico (£7.99), made from the unusual Garganega grape.
Lidl Northern Ireland's range of spirits are just the ticket to kick off your sunny weekends. With Rachmaninoff Vodka (£11.74), Dundalgan Irish Whiskey (£15.99) or the award-winning Wild Burrow Irish Gin (£16.49), Lidl Northern Ireland's selection is sure to lift your 'spirits' this summer.
Lidl Northern Ireland has plenty to offer this summer, with something for everyone to lick their lips and feast their eyes on. For the latest in store offers and promotions, please visit https://www.lidl-ni.co.uk/