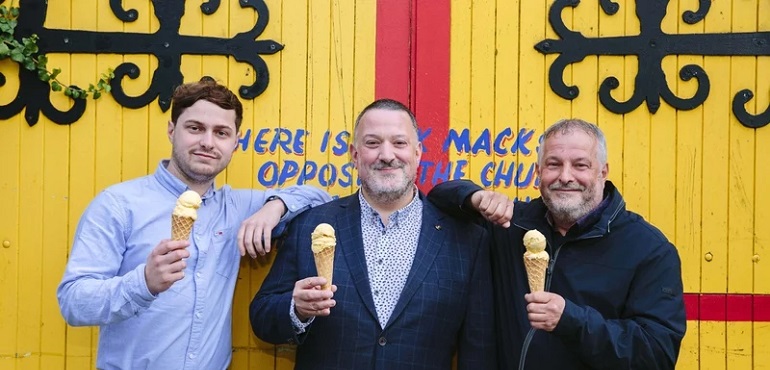 Morelli's reign supreme at 2023 Blas na h'Eireann Awards - Photo credit Fiona Morgan
Northern Ireland's Morelli Ice Cream, producer of a wide range of ice cream flavours and low fat sorbets, has scooped the 2023 Supreme Champion award for Morelli's Mango Sorbet at the 2023 Blas na hÉireann, Irish food awards in Dingle, the biggest competition for quality Irish produce on the island of Ireland. 
Often called the 'Irish food Oscars', the Blas na hÉireann awards highlight the best of Irish produce with a series of bronze, silver and gold awards, and this year's crop of Northern winners are no different. Local food and drink companies picked up seventy-four awards including 23 Golds, 26 Silver & 25 Bronze at the three-day celebration of the best of Irish food and drink.  
The Coleraine-based family owned and managed business, specialist in authentic Italian-style ice cream, have branched out for their award-winning dessert by creating a sorbet that uses real mango puree and no dairy or lactose products.
Speaking on the win, Arnaldo Morelli, MD at Morelli Ice Cream, said: "Our grandparents and parents would be ecstatic and we are all very proud to carry on their legacy. Our focus is on quality ingredients and great tasting ice-cream and there really is no better award than this among Irish food and drink producers so to be crowned Supreme Champion is the cherry on top of our Mango Sorbet!"
Now in its 16th year, the competition saw the highest number of entries with almost 3,000 products and many new producers entering the awards for the first time. Products from every county in Ireland were entered in over 150 food and drink categories, as well as key awards like Supreme Champion and Best Artisan Producer.
Several Northern Ireland producers returned home from Dingle with the coveted 'Chef's Larder' award supported by Bora Bia including: Burren Balsamics Blackberry and Thyme Infused Balsamic Vinegar Pearl Bursts; Capparelli Ltd Casarecce Artisan Pasta; Carol's Stock Market Simply Better Slow Booked Bone Broth 500ml; CRAIC Foods Shio Koji Black Garlic BBQ Sauce 240g and William Grant and Co Grants Guanciale.
Named 'Best in County' were:
Best in Antrim:  Annie's Delights
Best in Armagh: L'Artisan Foods
Best in Derry: Morelli ice Cream
Best in Down: Longbridge Drinks
Best in Fermanagh: Kettyle Irish Foods
Best in Tyrone: Honed Flavours             
Blas na hÉireann 2023 saw the return of the Blas Village and Eat Ireland in a Day tent where the 2023 finalists got the opportunity to showcase their products, engage with customers and meet key industry buyers.
Speaking as the winners were announced, Blas na hÉireann Chairperson, Artie Clifford said, "We are thrilled to see such deserving winners and finalists again this year at Blas na hÉireann 2023. Looking back on 16 years of Blas, it's fantastic to see the standard of food and drink in Ireland go from strength-to-strength year on year. It's a real privilege for myself and the whole Blas family to bring these products, and the amazing producers who make them, to a much wider audience."
As the competition ramps up year on year, securing that Blas badge is a huge achievement and means those producers who are short listed as finalists and the final winners really are the crème de la crème of Irish food and drink. 
To see all the winners of the 2023 Blas na h'Eireann Irish food awards visit https://issuu.com/irishfoodawards/docs/winners_guide