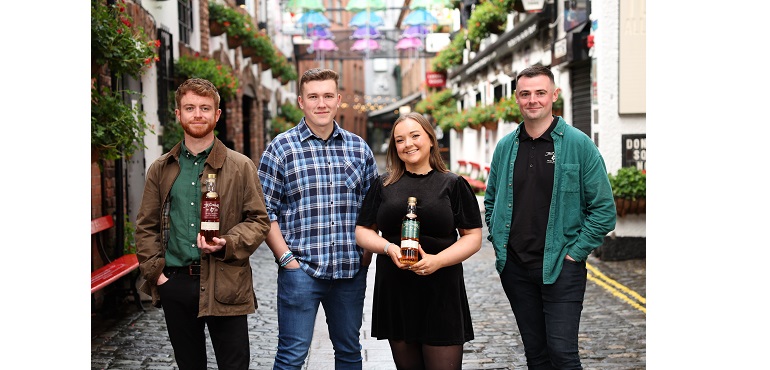 Industry Experts Join Ambitious McConnell's Irish Whisky Team
Irish Whiskey is one of the fastest growing drinks categories in the world, and among the whiskies that are most in demand is Belfast Distillery Company's McConnell's Irish Whisky. To help meet this remarkable growth, the company has expanded its operations with the recruitment of four new staff. 
Having first restored the iconic McConnell's Irish Whisky brand, which is now available in over 40 countries worldwide, Belfast Distillery Company  is working on the transformation of the once derelict and dilapidated A Wing at Crumlin Road Gaol into the state-of-the-art McConnell's Distillery and Visitor Experience.
In the last number of weeks the arrivals of Claire Crerand, Barry Mageean, Sean Rocks and Corey Fitzpatrick marks another milestone for the company, which is committed to providing investment and employment opportunities for the area. Once opened, the J&J McConnell's Distillery and Visitor Experience will eventually employ approximately 50 people and welcome in excess of 100,000 visitors every year. 
Claire Crerand has been appointed Visitor Experience Operations Manager, having previously worked at senior management level at The Scotch Whisky Experience. Barry Mageean joins as Distillery Team Leader alongside Master Distiller Graeme Millar, bringing a wealth of experience in designing, commissioning and managing distilleries across the UK and Ireland. Sean Rocks and Corey Fitzpatrick, who both have backgrounds in premium hospitality and tourism come on board as Brand Ambassadors, travelling the length and breadth of Ireland and around the world to share the McConnell's story. 
John Kelly, Chief Executive Officer at Belfast Distillery Company welcomed the latest additions to their team. He said: "This an exciting time for us, as we continue to re-develop A-Wing and open the doors to our new home at Crumlin Road Gaol. 
"We are particularly pleased to be building our team that will be here on the ground, marking another milestone in our ambitious plans for the J&J McConnell's Distillery and Visitor Experience. Barry will be supporting Graeme, our experienced Master Distiller to ensure the whiskey we are producing is of the very best quality, while Claire is involved in designing and implementing an experience to remember for every visitor who crosses our door to see the distillery in action. Sean and Corey will be supporting sales of McConnell's both at home and abroad. 
I'm delighted to welcome all four new team members to the McConnell's family. Things are moving at a rapid pace within Belfast Distillery Company, as always, and we continue to make great progress on building McConnell's Brand, Distillery and Visitor Experience – all of which help the Irish Whiskey category to continue to be an exciting and invigorating industry to be part of."
For more information on McConnell's Irish Whisky or to view upcoming job opportunities, visit www.mcconnellsirishwhisky.com. 
(L-R) Barry Mageean, Corey Fitzpatrick, Claire Crerand and Sean Rocks join the ambitious team at McConnell's Irish Whisky.