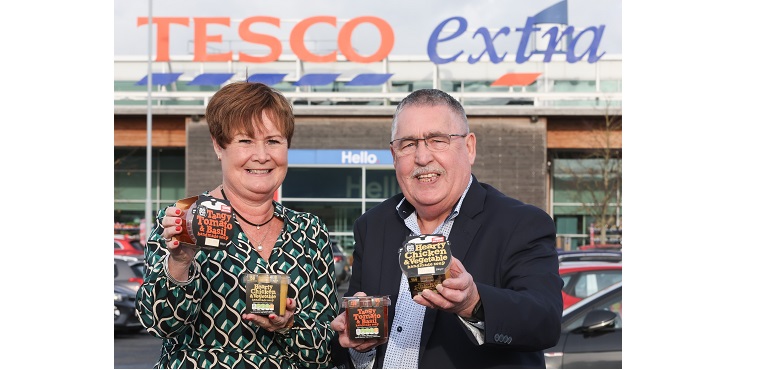 Let's get lunch at Tesco with Big Pot Co!
Cookstown based Big Pot Co have just launched two soup products into the coveted Tesco lunchtime 'Meal Deal' category.
The family-run producer will see two new 300g single-serve soups on shelf in all Tesco Extra, Superstore and Express Stores across Northern Ireland.
The two soups being listed are Tangy Tomato & Basil and Hearty Chicken & Vegetable, and these will be available to purchase as part of Tesco's iconic lunchtime 'Meal Deal' for £3.40 for Clubcard holders (£3.90 without Clubcard).
These two products mark the first 'single-serve' soups being brought to market by the company, who have been making small-batch, handmade soups and meals in the heart of Co.Tyrone since 2009.
Made with as many local ingredients as possible, Big Pot Co aims to make products that taste authentic and homemade, whilst offering consumers ease and convenience with no preparation time, and minimal cooking time.
Speaking about the listing, Big Pot Co's owner and founder Alison Seaney said: "We are absolutely thrilled that two our soups are on shelf as part of the Tesco lunchtime Meal Deal. Tesco's Meal Deals are iconic, so to be a part of their offering is absolutely incredible and we are excited to see how consumers embrace both our new flavours and the smaller pack size."
Tesco's Chilled Category Buying Manager Sandra Weir added: "We have been working with Big Pot Co since they first came to market over a decade ago, and we are delighted to work with them yet again to bring new products to our lunchtime offering. Working with local producers is central to our strategy here in the Northern Irish market so we are excited to be able to work with proactive, innovative producers like Big Pot Co to bring new and exciting SKU's to our shelves."
Pictured L-R are Tesco NI's Chilled Category Buying Manager Sandra Weir and Big Pot Co's Account Manager Stephen McNeice celebrate the launch of two new single-serve soups into their iconic Lunchtime Meal Deal category in all Tesco stores across NI.