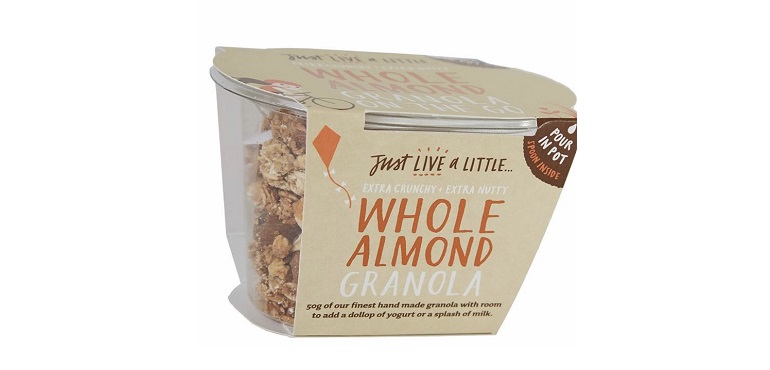 Just Live a Little wins Co-Op business with healthy breakfast option
Just Live a Little wins Co-Op business with healthy breakfast option
Just Live a Little in Northern Ireland, a UK leader in healthy breakfast granola and all-day snacks, has won its first business with the Co-Op.
The company is supplying its successful on-the-go pots to almost 400 stores across the UK. The 50g pots are Cranberry and Cashew and Whole Almond and features a spoon in the lid.
Just Live a Little is a family business owned and run by husband and wife team David and Jill Crawford which is based at Portaferry in county Down and has an extensive portfolio of healthy granola and other products.
Commercial director Jill Crawford, commenting on the new listing by a leading retailer in the UK, says: "The Co-Op business is another significant development for us in the UK, now among our most successful markets. We are thrilled now to be supplying such an important retailer with a strong commitment to quality food and drink.
"The Co-Op buyer identified an opportunity in the growing demand from shoppers for healthy options especially in the new breakfast option on-the-go category which the retailer has been developing.
"There was a gap for a convenient granola product. We provided samples of our handy on-the-go pots for tasting and secured what could prove to be substantial business for us. Our pots also have room for adding yoghurt or milk," added Mrs Crawford.
The Just Live a Little's handcrafted pots of premium granola for breakfast will launch in 380 Co-Op stores across Great Britain and Northern Ireland on 6th July.
 The business with the Co-Op means that the small quality and taste focused manufacturer now supplies its granolas and snacks to most of the leading UK retailers including Ocado. In addition, the company has growing export business in Europe and Asia. It recently supplied granola to German supermarket Aldi in the Republic of Ireland.
"We are both passionate about good food and use only the very best ingredients, such as oats and seeds, to be found here. All our products are handmade which means we have total control of everything we make here in Portaferry," Mrs Crawford continues.
The entrepreneurial couple formed the artisan business in 2011 in their farmhouse kitchen. Success in local and international markets has seen the business develop its own manufacturing operation. "Our aim is to harness the strong market trend towards healthier breakfast foods and snacks," she adds.