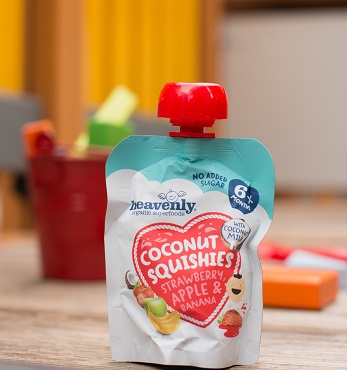 Northern Ireland's Heavenly Tasty supplies children's meals to Etihad Airways
Heavenly Tasty Organics, the multi-award-winning brand behind organic snacks for babies and children, has won business with Etihad Airways in Abu Dhabi in the United Arab Emirates for the airline's new buy-on-board menu.
Etihad Airways has rolled out a new Economy dining concept and retail offering as part of a wider programme of enhancements.
Unveiled last month, the upgraded meal service introduces larger bistro-style meals with a focus on fresh seasonal ingredients and more destination focused choices, plus new options for children.
The on-board menu, which has been facilitated by Retail inMotion, sees Heavenly's Coconut Squishies become the lead children's product on board all Etihad flights in 2019. 
Heavenly's Coconut Squishes are made from coconut milk with other organic fruits such as strawberries, apple and banana. The product is suitable for children aged six months and above.
Tony Douglas, group chief executive of Etihad Aviation Group, said the change would allow guests to personalise their travel experiences by giving them greater control and choice. Etihad Airways is the second largest airline in the UAE, with 75 destinations globally.
Heavenly Tasty Organics, owned and run by husband and wife team, Shauna and James Blair from Augher in county Tyrone, has won a series of awards for its organic children's food.
Speaking about the Etihad business, Heavenly Operations Director, James Blair, said: "Working with Etihad Airways is a strategic development for the brand and part of our ongoing strategy to provide healthier snacks to families at home and on the go. 
"As parents ourselves we understand the stress of feeling you have to bring everything with you for your children while travelling just in case there may not be anything available.  It is Heavenly's strategy to take the stress away from parents by providing healthy snacks, making travel time a little more enjoyable. We are currently experiencing growth in the Middle Eastern markets with our range of products, and this compliments the growing demand for Heavenly in this part of the world.
He continued: "We are delighted to have partnered with Retail in Motion, and Etihad Airways. We see this as the first step of Heavenly's journey into on-board and foodservice hospitality.
"This is a truly significant development for the family snacking brand and the team is extremely proud to be partnering with such a global business, which will see the Heavenly brand made available to a global audience," he adds.
Heavenly Tasty Organics has received assistance from business development agency Invest NI towards the development of the business and international marketing.
The Middle East is now a significant marketplace for Heavenly Tasty. The products are now on sale in the UAE, Saudi Arabia, Kuwait, Bahrain, Qatar, and Lebanon. They are also widely available in the UK and Ireland through major retailers such as Waitrose Sainsbury's, Boots, Morrison's, and online retailer Ocado.
Heavenly Tasty Organics was founded by Shauna Blair in 2009, a mum to four children, and a lover of all things organic and nutritious.
She first came up with the idea for Heavenly when she was frustrated by the limited choice of baby food products in Ireland for children, and then when her children were diagnosed with allergies and the choice was limited even further, she knew she had to do something about it. Shauna began by creating a guilt-free range of organic baby weaning meals for the Irish market, and now Heavenly has moved into snacks, with availability worldwide.