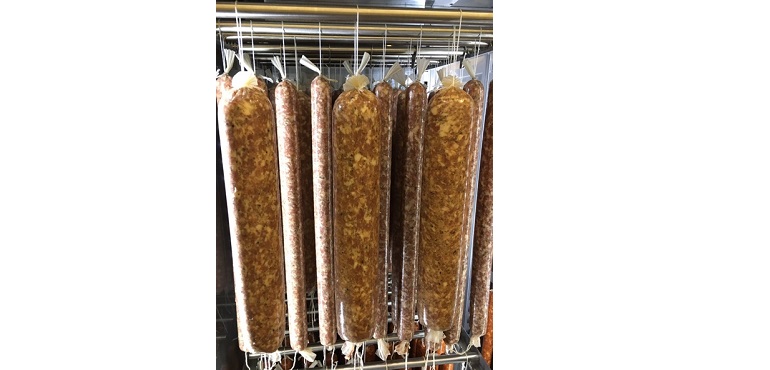 Corndale Farm launches first two salami products
Corndale Farm Charcuterie in Northern Ireland has expanded its range of cured meats by adding two free range salamis to its existing chorizos.
Based on a family farm at Limavady in county Derry, Corndale has introduced its first salamis using pork from its own free range herd of saddleback pigs. The new salamis are garlic and pepper, and fennel.

Alastair Crown, who formed the charcuterie business in 2012, says the introduction of salami products follows requests from customers, principally chefs in high-end restaurants, for them. It launched the free range chorizo - Northern Ireland's first home produced - last year

"Our two chorizo products are providing so popular with chefs and most recently with leading delis in Northern Ireland that developing free range salamis made good business sense.

"Chefs, in particular, have been pressing me for free range salami and so I decided to bring forward plans I had to create new salami products. The two products, garlic and pepper salami and fennel salami have been developed in response to these requests. Our chorizos, especially the spicy one, have been winning acclaim from chefs over their outstanding taste and texture," he adds.

The pork comes from his herd of 60 pigs which are free to graze the fertile farmland around his small holding outside Limavady and processed nearby in a modern and approved factory unit.
He decided to develop charcuterie because of a long-term interest in the spicy sausages and also because he believed there was no room in the market for longer established bacon and ham. No-one was producing chorizo on any scale in Northern Ireland at the time.
He's also benefiting from the weakness in sterling which has made imported chorizo and salami more expensive.
He developed his own recipe through trial and error - adjusting spices such as paprika along with garlic and fat until he got the flavour he wanted.