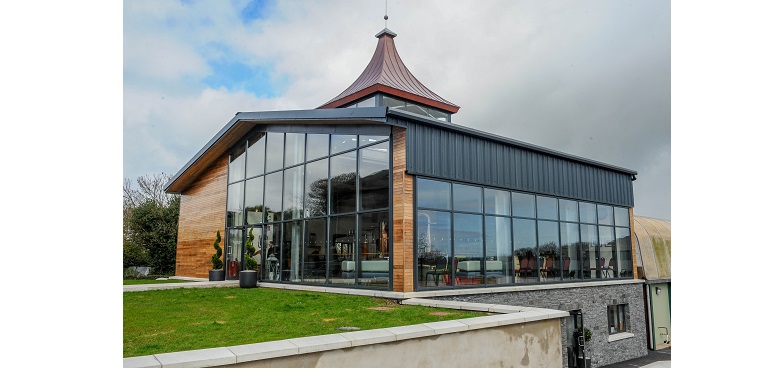 Irish whiskey distilleries urge global promotion
Whiskey producers in Northern Ireland are backing a call by the Irish Whiskey Association (IWA) for the promotion of an internationally-marketed whiskey trail, similar to Ireland's tourism-focused Wild Atlantic Way and Ancient East, to help capitalise on the island's whiskey resurgence.
Its goal is to increase the 653,277 tourists who visit an Irish whiskey distillery each year to 1.9 million by 2025.
Old Bushmill's Distillery in county Antrim, the world's oldest licensed whiskey distillery, already attracts around 150,000 visitors annually and has plans to create a new interactive visitor centre as part of a £30 million investment in Ireland's historic distillery, now owned by Jose Cuervo, the market leading Mexican tequila producer.
Echlinville, Northern Ireland most recent licensed distillery and Ireland's only single estate whiskey, recently opened a visitor centre at Kircubbin, county Down which has become a popular visitor centre.
Echlinville's founder and managing director Shane Braniff says: "Our visitor centre is proving increasingly popular especially with international tourists. We'd certainly welcome an initiative to develop an all-Ireland whiskey trail. It would be great for the industry and for the wider economy here."
Echlinville has revived successfully the Dunville brand's two historic whiskies, Dunville PX single malt and Dunville Three Crown's blended whiskey.
Echlinville also produces the 'Feckin' and 'Feckin Spiced' whiskies.
Another successful visitor centre in Northern Ireland is one operated by Rademon Estate Craft Distillery in Crossgar, county Down. Rademon produces the popular Shortcross Small Batch Gin and has already laid down spirit for a new Irish whiskey.
New visitor centres are also planned at The Quiet Man Distillery in Derry, currently close to completion, and at the old Crumlin Road Gaol in Belfast, where Belfast Distillery Company aims to produce a range of whiskies including the existing Danny Boy and Titanic blends.
Ciaran Mulgrew, managing director of The Quiet Man Distillery, adds: "The visitor centre will be at the heart of our investment in Derry, a city with a tremendous heritage in whiskey distilling. Derry, for instance, was once the location of Ireland's biggest whiskey distillery, Watts and Company, and we are aiming to build on this tradition. Visitors to the distillery will have a great deal to experience and enjoy here. It will be a tremendous addition to Derry's visitor attractions."
As part of the new IWA strategy, the industry is calling for investment for the development of a tourism infrastructure around distilleries as well as the promotion of Irish whisky festivals abroad. Exports of Irish whiskey have been up by 60 per cent since 2009, with annual whiskey exports valued at €410 million. Currently there is 28 distilleries operating or being developed in Ireland with plans for an investment of around €1 billion to help grow its market share by 300 per cent.
"The growing success of Irish whiskey internationally and an outstanding whiskey visitor performance to date means Ireland has the potential to compete with Scotland and Kentucky to become the world's number one whiskey tourism destination," adds Bernard Walsh, IWA chairman and chief executive of Walsh Whiskey Distillery in Carlow.
"We've never done this before, to promote the category of Irish whiskey worldwide. Nobody is out there promoting Irish whiskey whereas they are with scotch and bourbon. But to become the number one whiskey tourism destination in the world, Ireland will have to compete against its biggest rival, Scotland. We have 653,000 visitors coming to Ireland's whiskey visitor centres. Bearing in mind that we have only had five key visitor centres, we are just finding our feet.
"In Scotland, on the other hand, their visitor numbers are 1.4 million. One in every five visitors to Scotland goes to see a distillery during their trip. They've got 109 distilleries, with about 60 of those having a visitor centre, so we're ahead of the game in terms of the numbers we're getting to visit the few distilleries we have. But we really need to up the ante. There's a great opportunity to become number one in the world very quickly. In order for the industry to grow we need more distilleries, new tastes and variations, it needs to be an exciting and vibrant category," he says.
Irish Whiskey is the fastest growing premium spirits category in the world. Global market share is set to grow by 300 per cent by 2030 to 12 per cent. By 2025 production will rise by 41 per cent from 2010 levels. It has achieved Geographical Indication status, significant in terms of protecting the integrity of category.