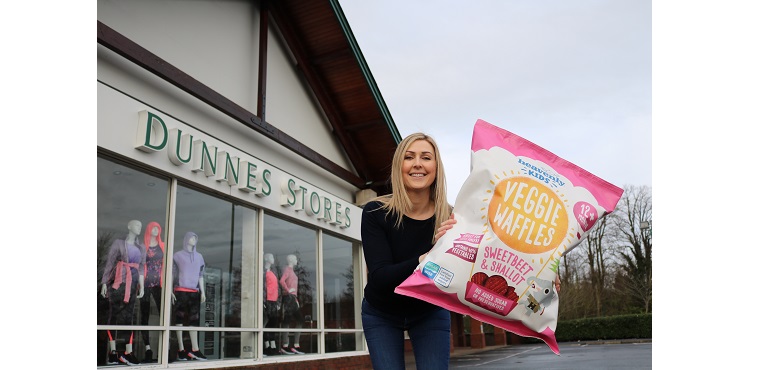 Heavenly Tasty Organics wins new business with Dunnes Stores
Heavenly Tasty Organics, the Northern Ireland leader in award-winning natural foods for babies and toddlers, has been listed by Dunnes for its stores in the Republic of Ireland and Northern Ireland.
The company is now supplying six products to Dunnes, Ireland's largest retailer with more than 100 stores across the island of Ireland.
Heavenly Tasty, which is headquartered in Augher, Co Tyrone, has a listing for two flavours each of its Veggie Waffles, Breadsticks and Yummy Wafer Wisps in a deal involving Dublin-based food distributor Total Brand Solutions, a subsidiary of Europe's Total Produce.
Shauna Blair, the founder and managing director of Heavenly Tasty, commenting on the company's latest business, says: "This is an immensely important contract for us because it offers access to the biggest food retailer on the island and one with a strong reputation for quality food.
"Ireland has proved a very good market to date for the Heavenly brand and the addition of Dunnes strengthens our brand presence and offering for the Irish consumer," Mrs Blair continues.
"We appreciate the tremendous assistance provided by Total Brand Solutions in enabling us to achieve this very significant listing offering great potential for us especially in a market which we have targeted for faster growth in sales.
"The listing enables families shopping in Dunnes to buy our range of organic, natural, nutritious and outstandingly tasty foods for babies and young children.
"We will be supporting Dunnes and Total Brand Solutions in marketing initiatives to increase awareness of all our organic foods for children which are now also selling well in other parts of Europe, the UK and the Middle East," adds Mrs Blair.
Glenn Troy of Total Brand Solutions says: "We are delighted to become the official distributor for the Heavenly brand in Ireland.  The brand adds to our portfolio of great brands and allows us to offer our customers a healthy range of snacking for babies and children and we will be aiming to roll the Heavenly products out nationwide in 2020."
Mrs Blair, a mum of four young children, established the company in 2009 and runs it with husband James, the commercial director, from their base in county Tyrone. She began developing natural foods when she was unable to find the type of baby products she wished in Northern Ireland.
Among many recent awards won by Heavenly Tasty is the prestigious UK Quality Food and Drink Award as the Best Baby Snack for its healthy Veggie Waffles in Sweet Beet and Shallot flavour, which is included in the listing with Dunnes.
Another organic product, Yummy Wafer Wisps Apple, Spinach and Kale, was shortlisted in the quality awards. This is also now available from Dunnes stores.
In addition to these products, Dunnes has listed Carrot and Cumin flavoured Veggie Waffles; Breadsticks in Original and Rosemary flavours; and Yummy Wafer Wisps in Banana and Pumpkin.