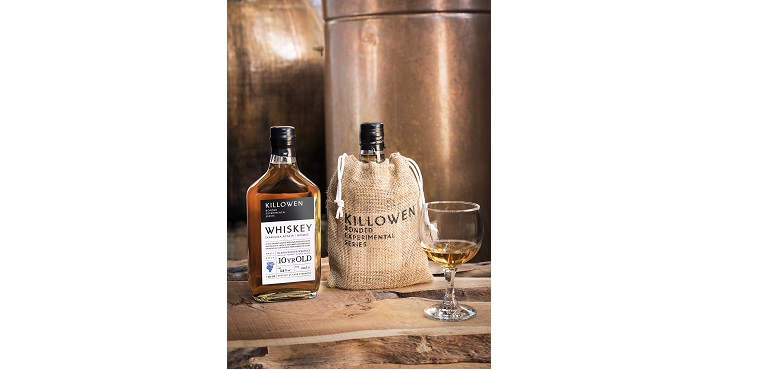 Innovative Txakolina Acacia whiskey from Killowen Distillery in Northern Ireland
Killowen Distillery in Northern Ireland has launched a second 10-year old blend of the company's Bonded Experimental whiskies.
The new whiskey is is a Txakolina Acacia Cask finished, small batch (490 bottles), cask strength, non-chill filtered, no colouring, 10-year old blend with transparency and integrity at its core.  
Brendan Carty, Killowen's founder and managing director, explains: "Since the formation of Killowen Distillery, we have been carefully sourcing whiskeys that are a minimum of ten years old from different distilleries all across Ireland. Throughout this time we also hunted the globe for the finest casks to complement certain flavour notes in the blends.
"Amongst the vibrant blended whiskey culture in Ireland, the Killowen series stands out with its unique ratio of malts and grain whiskeys, the blend is then finished with a dominant yet balanced cask influence. This allows the consumer to enjoy an educative experience while drinking which is enhanced by extensive production transparency on the bottle labelling.
"We aim to be an exemplar for industry progression, with integrity bottlings, quality spirit and transparency is at our core. Our unique packaging provides the consumer with all details regarding sourcing, blend ratio and finish. 
"The fact that it is not Killowen distilled spirit but rather, as the names suggests, a blended/ bonded spirit - is clearly set out. By providing the consumer with all the information allowing a deeper understanding of the flavour breakdown," he adds.
The whiskey is distilled in the Mourne Mountains, near Rostrevor in county Down.
This whiskey is the second of a set of different whiskeys that will be released over a two-year period. Finishing only 355 no. 50cl bottles, The Basque Txakolina Cask was specifically chosen for its smell and freshness. This, coupled with virgin Acacia heads, creates a unique small batch spirit with a full bodied experience.
The new whiskey is described as "a marriage of apricot, apple and pear flesh from the start with a slight bitter varietal character, creating a fresh mineral balance alongside vanilla wood-spice".
The small batch distillery also produces gin and poitin.