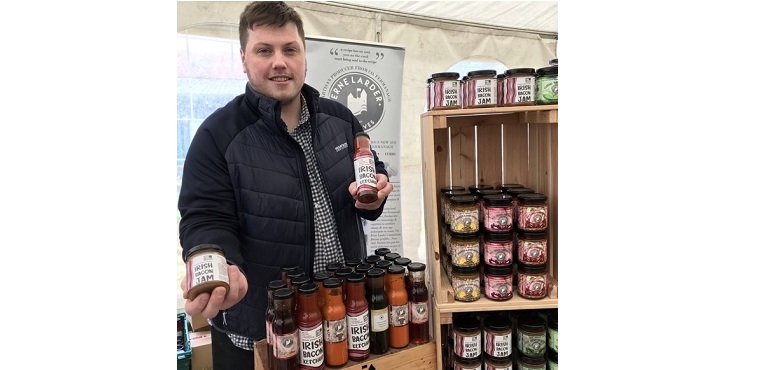 Erne Larder boosted by sharp growth in website sales
Erne Larder Preserves, the Northern Ireland producer of ketchup, jams, relishes and pesto, has experienced a five-fold growth in sales to existing and new customers especially in Great Britain and the Republic of Ireland.
The artisan business, which is run by chef Declan O'Donoghue and is based in Enniskillen in county Fermanagh, has racked up significant sales during the lockdown from its website and listing by the specialist Artisan Food Club (AFC) in Britain.
Among the company's most successful products in Britain and the Republic, according to Mr O'Donoghue, are its unique Irish Bacon Ketchup and Irish Bacon Jam. In addition to retail jars, he produces the sauces in bulk for the hospitality sector.
Mr O'Donoghue continues: "The past three months have been extremely difficult because many of our customers in the hospitality sector have been closed and some of the leading delis and independent grocers have been operating only limited hours.  And the food markets which generated cash for us were also closed.
"What made the difference for us was the investment in our website to sell our products and also the inclusion of our products, especially the Irish bacon jam and ketchup, on the AFC website. These were two game changers during what was a tough time for us and many other smaller food processors here.  It was a tremendous relief to see some cash flowing again," he adds.
Listing by Artisan Food Club last year was the Fermanagh company's first significant business in Britain. It has subsequently gained its first European sales, in Belgium. Erne Larder has also won business from Lidl Ireland and Aldi Ireland.
"Our complete range of products is now listed for delis and smaller retailers in Britain especially our Irish bacon ketchup, the only product of its type being produced in both Northern Ireland and the Irish Republic," adds Mr O'Donoghue.
He established Erne Larder Preserves in 2016 to develop a range of sauces and jams based on his own experiences as a chef in hotel and restaurant kitchens over many years. His first product was the unique Irish bacon jam.
In addition to Irish bacon jam and ketchup, Erne Larder produces jams and pesto based on recipes created by Mr O'Donoghue.