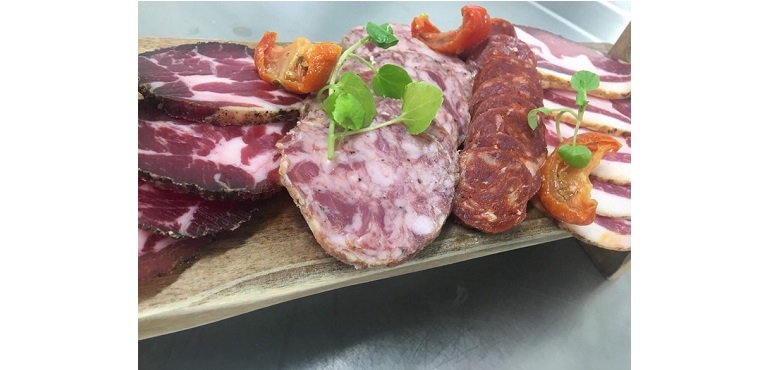 Celebrity chef backs innovative Northern Ireland salami
Award-winning Corndale Free Range Farm has been chosen by celebrity chef Jean-Christophe Novelli to supply a special charcuterie for his high-end restaurant in Belfast.
Corndale, based on a pig farm near Limavady in county Derry, has developed a unique ham hock and porter salami for the charcuterie board in Novelli at City Quays, the 112-seat restaurant which is a key feature of the city's recently opened AC Hotel. The premium restaurant is also the first opened by Jean-Christophe on the island of Ireland.
Corndale has supplied charcuterie products, especially chorizo, since the restaurant opened its doors to the public earlier in the year.
Alastair Crown, the founder and managing director of Corndale Free Range Charcuterie, a specialist in cured meats which has won UK Great Taste and Blas na hEireann food awards, says: "I was delighted when such a distinguished and multi Michelin star chef asked if I would create a new house salami for the restaurant.

"It's a great privilege and tremendous honour to be working with him and his team that's led by Jim Mulholland, the restaurant's talented executive head chef.

"After a bit of brain storming, Jim suggested trying to replicate a Dockers lunch because the restaurant overlooks the port of Belfast. This used to consist of a pickled pig's foot (trotter) and a pint of Guinness (Porter)," he adds.
After several weeks of testing and recipe development, Alastair produced Ham Hock and Porter salami.
Alastair explains: "The salami was quite technically challenging and had a longer process than most salamis. First, we start with our own free range ham hocks. We dry cure them in our own dry cure of salt, brown sugar and our own secret blend of aromatics. After curing, we bone out the ham hocks and meticulously remove any sinew or silver skin that can spoil the texture of the salami.

"We season the salami with a delicate blend of herbs and spices and the porter to give a beautiful acidity and a touch of mace for fragrance. The salami is then fermented and air dried in our state- of- the-art chambers for up to 12 weeks to allow the flavours to develop and mature.

"The salami is sliced in house by the skilled chefs at the restaurant to ensure diners are getting the freshest possible experience," he adds.
The Ham hock and Porter salami makes up part of the Corndale Charcuterie board offered by Jim and JC Novelli. It is accompanied by our Fennel & Black Pepper Coppa, Irish Black Butter Lomo, Chorizo and our multi award winning fennel salami. A lovely balance of flavours and textures.
The new house salami will soon be available in handy retail packs in the restaurant.
Corndale Free Range Charcuterie, established in 2012 by Mr Crown, has been at the forefront of the successful revival of meat curing and charcuterie in Northern Ireland. In addition to salami and chorizo, the small company, which cures meat from its own herd of heritage pigs, has produced its own bresaola and lomo.
Other new cured meat products developed by the farm-based business include two flavoured salamis - garlic and thyme and orange and cardamom, both of which are aimed at the wholesale market.