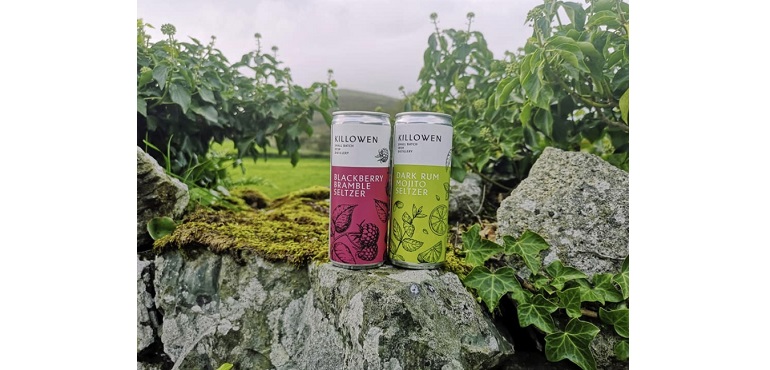 New rum mojito seltzer from Killowen Craft Distillery
Killowen Distillery in Northern Ireland has developed a new hard seltzer to add to its existing Blackberry Bramble. The new product is a Dark Rum Mojito that features the craft distillery's very own cask aged rum.
The Killowen Dark Rum Mojito Seltzer is described by Brendan Carty, the distillery's founder and managing director, as "a refreshing spritz of lime, mint and dark rum".
"The rum is crafted from the finest sugar and black strap molasses, and distilled before being aged in a variety of oak casks," Mr Carty explains. "The dark rum is then muddled with natural lime and mint to create a beautiful, refreshing and balanced drink," he adds.
"The new mojito seltzer has a distinctive flavour of wild mint and lime zest with tropical rum notes of vanilla and coconut in the background."
The distillery is located in the iconic Mourne Mountains in Co Down near Rostrevor.
Mr Carty says Killowen seltzers are sugar free with just 70 calories. "All the ingredients are natural. There are no artificial colourings, flavourings or preservatives, he continues."
The seltzers are produced in 250ml cans for convenience at the distillery which is best known for its portfolio of rare cask Irish blended whiskeys. The distillery also produces gin and poitin.
In addition to the new seltzer, Killowen has improved the flavour of its original blackberry flavour, which was launched in August.
"The two seltzers are being rolled out across Northern Ireland and the Republic of Ireland by wholesalers, including the Celtic Whiskey Shop in Dublin and KWM Wines in Northern Ireland, next week.
Mr Carty, a qualified architect, built much of the small distillery, set high in the picturesque Mournes overlooking Carlingford Lough, in 2016. He has since gained widespread recognition for his portfolio of experimental, small batch, blended Irish whiskeys.
He decided to launch canned seltzers because of the growing popularity in the US and Canada of such alcoholic beverages and also in line with the trend towards canned cocktails.