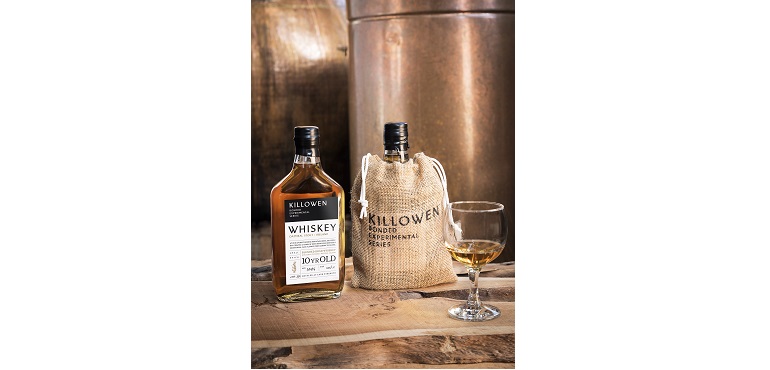 New Irish whiskey from an Oatmeal Imperial Stout Cask
Killowen Distillery, producer of small batch whiskey blends as well as gin, poitin and rum in Northern Ireland, has introduced a new Oatmeal Imperial Stout Cask finish whiskey.
The distillery is producing just 350 bottles, cask strength, non-chill filtered, no colouring, 10 year old blend with transparency and integrity at its core.
From the outset, Killowen Distillery, near Rostrevor in Co Down, has been carefully sourcing whiskeys 12, 11 and 10-years old from different distilleries all across Ireland.
Founder and master distiller Brendan Carty says: "We also hunted the globe for the finest casks to complement certain flavour notes in the blends, this time we have stayed much closer to home, looking to the famous Mourne Mountain region of Co Down. 
"We received this cask wet and fresh from Mourne Mountains Brewery in Warrenpoint which had just disgorged it as part of their Hop's & Stave's cask-aged Stout edition.  Working with other creatives from the Mourne locality made this cask all the more special," he adds.
Before stout, the cask previously held whiskey from a Dublin distillery and prior to that, an American bourbon.  "Fresh Vanilla was not a flavour profile we were expecting, rather, we had anticipated flavours associated with older wood," Mr Carty adds. 
"Working with such a cask, saw us receiving the highest angels share from any of our releases to date. Our cask strengths normally sit around the 55-57% mark but this one finished at 54.1%. At one stage we felt this whiskey had become over-powered and so we left it inside for longer, eventually the overall flavour became more rounded and balanced. In the end, it spent one year in this cask."
"Killowen aims to be an exemplar for industry progression. These integrity bottlings have quality, spirit and transparency as core values. We believe the packaging of a bottle should provide the consumer with all details regarding sourcing, blend ratio and finish. 
"The fact that it is not Killowen distilled spirit but rather, as the names suggest, a blended/ bonded spirit - is clearly set out. Providing the consumer with all this information allows a deeper understanding of the whiskey while tasting," he adds.
This whiskey is the sixth in a set of different whiskeys that will be released over a two-year period in the distillery's integrity bottling series.